Estimated read time: 2-3 minutes
This archived news story is available only for your personal, non-commercial use. Information in the story may be outdated or superseded by additional information. Reading or replaying the story in its archived form does not constitute a republication of the story.
Sandra Yi ReportingAn accused sexual predator is behind bars today. Police say he abused young boys in his Midvale neighborhood. The mothers of two alleged victims called police after their kids wanted to spend the night at the man's house.
Debra Duran: "We all grew up together. It's a tight family out here. You don't want to believe that it's happening."
But for a while, Debra Duran felt something bad was going on at her neighbor's house.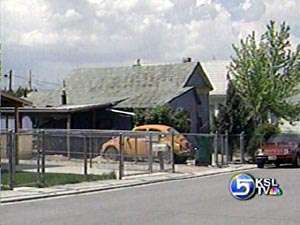 Debra Duran: "He's a single man. He has no kids, and there's a million little kids over there."
She saw kids as young as five-years old there -- all boys from the neighborhood.
Debra Duran: "We had told some of the kids, 'Don't go there. He's bad. He's going to hurt you'."
Police say her instincts were right. They arrested 37-year old Frank Lucero, for child sexual abuse and rape. Police know of eight potential victims so far between 7 and 14 years old, and there could be more.
Debra Duran: "He would lure them with bikes, games and computers. He was really good on his computer. 'Oh, come and see my new game on my computer'."
During a search of Lucero's home police recovered five computer hard drives, CDs, DVDs, and sexually explicit photos.
Sgt. John Salazar, Midvale Police Dept.: "Some of the pictures are of the victim, and some of the pictures are in areas not in Utah. There are pictures of the beach with nude children."
But even with the disturbing allegations, neighbors have mixed feelings because they've known the suspect and his family for years.
Debra Duran: "Can't believe that someone you knew or thought you knew so well was like this."
Alberto, Neighbor: "It makes me disgusted, yeah. Angry? No, not really. You know, it happens. Some people are just sick and wrong."
Police say Frank Lucero has a criminal history, which includes drug and child abuse charges. He is in jail on 20 counts of felony aggravated sexual abuse of a child and three counts of felony object rape of a child. Anyone with any information on this case can call Midvale Police.
×
Most recent Utah stories