Estimated read time: 3-4 minutes
This archived news story is available only for your personal, non-commercial use. Information in the story may be outdated or superseded by additional information. Reading or replaying the story in its archived form does not constitute a republication of the story.
Jed Boal ReportingA massive amount of water is being released from Pineview Reservoir this morning as part of major flood control. The water release has some residents living along the river bottoms on edge.
High flows on the Ogden River and a miscommunication raised flood concerns Tuesday for people who live on the river's banks. Managers of Pineview Reservoir in Weber County plan to release a lot of water to control the potential for flooding, but they say the rising torrent should not flood any homes.
The situation calmed a lot through the afternoon and into the evening Tuesday. The Ogden River was really moving and lapping at some lawns. When people were told Tuesday morning that the flow would double in two hours, as you might imagine, they got a little edgy.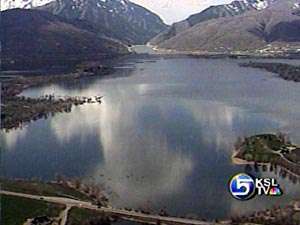 Keith Rounkles knows the Ogden River well, he runs a restaurant on its banks, runs the rapids in a kayak, and knows the flow from the Pineview Reservoir a mile up river. So when Weber County Sheriff's deputies knocked on his door at 10 a.m. Tuesday and told him more water was coming, he got nervous.
Keith Rounkles: "They said that they were gonna do a release at 12:00 and everybody down the canyon and down along the river way were gonna get flooded."
Tuesday the water was flowing at 1,000 cubic feet per second. He was told it would be released to 2200 cfs. He called everyone he could think of who might help.
Keith Rounkles: "It would've really washed a lot of things – bridges, everything out."
He soon discovered there was a mix-up with the numbers. The river would rise only 200 cfs, a 20 percent increase in flow. Because of the confusion and concern, the release was delayed.
Keith Rounkles: "They figured that they would still postpone it until tomorrow (Wednesday) at 8:00, give people a little more time, because two hours is not enough time."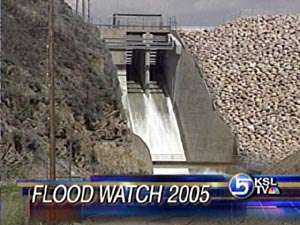 The Bureau of Reclamation controls the flow from Pine View. The storms last week pushed the water levels in northern Utah dams.
Ed Vidmar, Dureau of Reclamation: "We're trying to maintain the water levels in these reservoirs so that they have enough space to capture the snowmelt runoff when it actually starts coming."
The bureau says the channel can hold the added flow that will start Wednesday and last about a month or more.
Ed Vidmar: "You try not to get the emergency to where you're full and you have no choice and you start releasing what Mother Nature's bringing in."
Weber County Emergency Management is concerned about a handful of property. They made sandbags available to people who picked them up and put them in place Tuesday night. As the extra flow comes down the river today, they'll be keeping a close eye on what's going on and how the water is rising. They'll also have a community service team ready to help sandbag and respond to any emergency that may develop.
Again, the water level is going to come up and stay up for about a month.
×
Most recent Utah stories