Estimated read time: 2-3 minutes
This archived news story is available only for your personal, non-commercial use. Information in the story may be outdated or superseded by additional information. Reading or replaying the story in its archived form does not constitute a republication of the story.
Coco Warner ReportingThis year's weather pattern and flood potential is reminding people of the 1983 floods. Farmington resident Don Sims talked to KSL all those years ago about losing his house to mudslides, and Coco Warner caught up with him 22 years later.
Don Sims lost his house in the 1983 mudslide that damaged dozens of homes at the mouth of Rudd Canyon.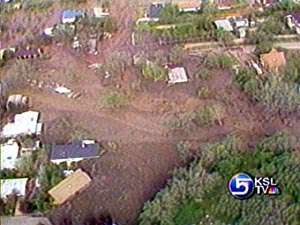 Don Sims, '83 Mudslide: "Eight houses were lost and damage done to quite a few others..."
Severe weather prompted the slides that came over Memorial Day Weekend. Don spoke to KSL about the situation 22 years ago.
Don Sims, '83 Mudslide: "My wife and I heard this rumbling noise like a bunch of rocks coming down the canyon and we looked up over the house and we could see the trees start falling like dominoes one after the other. And I yelled at her, 'let's get out of here as fast as we can!' She ran in, grabbed the baby, and screamed to the other kids to get to the car. And they come out and got in the car and we drove away as fast as we could and as we did we yelled to the neighbors get out, it's coming."
And 22 years later the memory is still fresh.
Don Sims, '83 Mudslide: "I could just see a wall of water coming down there, but couldn't figure out where it could be coming from. So we left, drove on down, and realized it was really quite calm and quiet in the rest of Farmington. So anyway, it came down and moved our house into the neighbor's yard-- probably about 50 or 60 feet."
Twenty-two years ago Don managed to have perspective on the devastating circumstances.
Don Sims, '83 Mudslide: "You reach a point in time where a tragedy occurs in your life and you're going to keep living. You keep breathing one breath after the other; you keep eating one meal after the other; you get tired and you go to bed and sleep and you get up and you go about your daily activities. You can either do that with a bad attitude, you can either begrudge life, you can have a sour apples attitude against everybody that you see, or you can turn around and you can say, well, what's happened has happened—there's not anything I can really do to change it. So I might as well be somewhat optimistic."
And 22 years later his perspective serves him well.
Don Sims, '83 Mudslide: "One of the things that's kind of hard to realize though is when something like that happens to you, you all of a sudden realize that you are the victim and you have to put yourself in a position where you're willing to receive help from somebody else cause everybody wants to help you."
If you ask Don Sims about losing his "home" in 1983 he'll quickly correct you and say he lost his "house." He says his "home" is wherever his family is.
×
Most recent Utah stories