Estimated read time: 2-3 minutes
This archived news story is available only for your personal, non-commercial use. Information in the story may be outdated or superseded by additional information. Reading or replaying the story in its archived form does not constitute a republication of the story.
Amanda Butterfield reporting An officer-involved shooting has left a neighborhood reeling in Pleasant Grove.
The officer involved in that shooting is on leave. His target ...a drug fugitive who'd been staying with family.
That suspect is in the hospital this morning. Police say the officer fired in self -defense.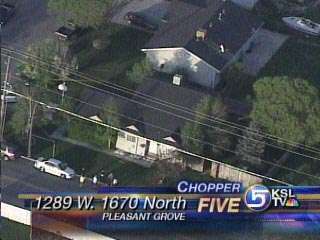 The man was wanted by police and when an officer tried to arrest him, he pointed a gun at the officer. Investigators say the officer was left with no choice, but to shoot the suspect to protect himself.
Authorities say 28-year-old Zach Chipman has a long drug history.
Adult probation and parole officers knew Chipman was at his parents house in Pleasant Grove, last night. They asked Pleasant Grove police to assist them in an arrest. When a Pleasant Grove officer showed up, Chipman argued with him, then went into a bedroom and got a shotgun.
Chipman's mother tried to wrestle the gun away from Chipman, but Chipman overpowered her and pointed the gun at the officer. The officer fired at Chipman, hitting him in the right shoulder.
Neighbors are calling the incident a tragedy. They say the Chipmans are a respectable family and it seemed Zach was starting to turn his life around.
Keith Nielson, Neighbor: "The last couple of years, he was very straight and narrow. That realy surprised me that we're having a discussion right now."
Capt. Cody Cullimore, Pleasant Grove Police Dept.: "I've known this family for years. I live very close to here. I've known them for a long time. They are very distraught about their son's actions. They've expressed concerns over the officer as well and realize what a strain this places on law enforcement to have to take these kinds of measures."
Chipman's father still can't believe that his son would point a gun at an officer.
Kent Chipman, Father: "It's surprising to see this sort of reaction. He has had a history of drug abuse. He is a good kid, has a good heart. Hopefully this will be the wake-up call he needs to straighten his life."
According to Chipman's father, Zach had missed some required classes and appointments.
Chipman was rushed to the American Fork Hospital, then flown to the University of Utah. Chipman is recovering at awaiting word if surgery is needed, or if there's nerve damage.
Kent Chipman says he doesn't have any ill will towards the officer who shot Zach, saying "He was just doing his job."
The officer is on paid administrative leave, pending an investigation. Turns out Chipman's gun wasn't loaded, but investigators say there's no way the officer could have known that.
×
Most recent Utah stories