Estimated read time: 2-3 minutes
This archived news story is available only for your personal, non-commercial use. Information in the story may be outdated or superseded by additional information. Reading or replaying the story in its archived form does not constitute a republication of the story.
Sandra Yi ReportingJerry Atkin: "It's not exactly what we were hoping for on graduation day."
But it was a day some flight attendants won't soon forget. The blast from a jet engine knocked them down.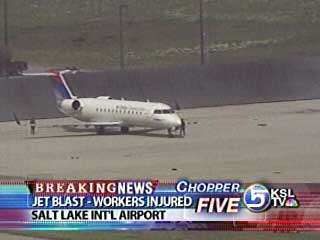 This hangar is used for employee training and aircraft maintenance. This morning both things were going on when something went wrong. Posing for pictures put some flight attendants in the path of danger.
Jerry Atkin, President and CEO, SkyWest Airlines: "It's probably a little premature to say exactly what went wrong, but it shouldn't have happened this way, certainly."
They were outside a SkyWest hangar, standing near a 50-seater Canadair regional jet.
Jerry Atkin: "What is a little unusual is for the group to be outside the hangar out on the ramp."
Atkin says 14 flight attendants were standing by the aircraft for a graduation day picture. They had just completed a three-week training course. They didn't know that maintenance crews were testing some work that had been done on the nose gear.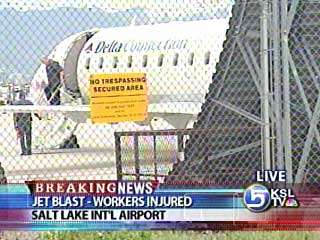 Jerry Atkin: "And in order to do that procedure, they do figure 8's to make sure the nose is turning as it should be."
The group was 50 feet away and the jet blast knocked some of them down. SkyWest officials say there was no heat or flames, just a very strong gust of wind.
Tony Fizer, Western Regional Director, SkyWest Airlines: "It can be up to 130 miles an hour, and depending on how far they are the thrust of wind will dissipate with distance. So, as Jack mentioned earlier, 30 feet away, it can be up to a 100 mile an hour that it hits you."
Three female flight attendants were taken to the hospital with injuries that included a sprained ankle and sore shoulders.
Jerry Atkin: "There was no breathing problems or any of those kind of things, but it was kind of like two of them made a good tumble, I guess, is what you would describe it as."
Two maintenance workers were on the plane. The one piloting it was shaken up and is not expected to face any disciplinary action. Skywest is doing an investigation to find out exactly how this all happened.
×
Most recent Utah stories