Estimated read time: 2-3 minutes
This archived news story is available only for your personal, non-commercial use. Information in the story may be outdated or superseded by additional information. Reading or replaying the story in its archived form does not constitute a republication of the story.
Sandra Yi ReportingSome tense moments at an elementary school in West Valley this morning as police looked for a possible intruder. A custodian saw the person. Fortunately, it all happened before any students got to school.
The custodian was startled to see someone running down one of the hallways. He told us, whoever it was, that person shouldn't have been there.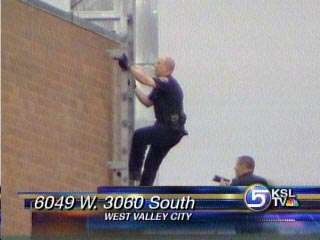 Earl Burton: "The only door I unlock is this door here, so teachers can come in."
That's custodian Earl Burton's routine each morning, but today something wasn't right. Granite Police had detected a sound alarm. When Burton went to look around, what he saw triggered a lock down.
Earl Burton: "As a matter of fact, it scared the crud out of me. This is where I actually saw the person run across the back hallway. I had a kitchen person. I locked her in there and called police."
No one was allowed in as police and a K-9 dog scoured the building for an intruder. As students arrived they were told to wait at a nearby church.
Leah Wright, Parent: "I'm just grateful that they have a place for the kids to come, that's a safe place for them."
Melissa Ray, Parent: "A little bit nervous. It's the first time this has ever happened."
Police went through the school twice and didn't find anyone or any sign of a break-in. But strangely, there were six doors that were unlocked. Burton says that's not procedure.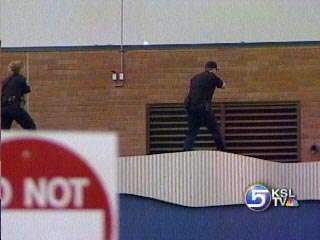 Earl Burton: "He either had a key to unlock to get in the building, or he came in the building last night and has been in the building all night."
Whatever the case, students were allowed back in just after nine. The principal immediately had an assembly to talk about what happened. It was an unexpected lesson in courage.
Jane Lindsay, West Valley Elementary School Principal: "I don't advise taking kids home after an incident like this because you can't run away from your fears, you need to face them."
Students took it easy today and watched a movie. There were counselors on hand for them, just in case. Police still don't know who the person was, but they had officers watching the school today.
×
Most recent Utah stories