Estimated read time: 2-3 minutes
This archived news story is available only for your personal, non-commercial use. Information in the story may be outdated or superseded by additional information. Reading or replaying the story in its archived form does not constitute a republication of the story.
Alex Cabrero ReportingMore rain means more danger for the Cedar Hills mudslide. Crews are working as fast as they can to get an idea of how best to deal with what's already been done.
With all the rain we've had, state geologists say a mudslide was bound to happen, it couldn't be avoided, but what could've been avoided is homes being built in that very spot. Alex Cabrero found out one engineering company told the developer to avoid building there.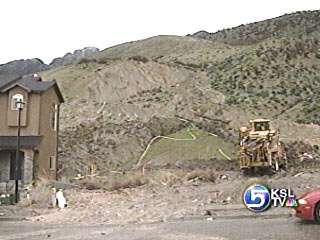 Almost six years ago, Earthtec engineering based in Orem took a look at the Cedar Hills site for the developer. Because of potential danger, Earthtec said yes for some sites and no to others.
Now it's a race against the rain. Work crews are taking core samples to figure out exactly what's going on inside the slide. For Wendy Wilson, she just wants to know how much longer she'll have to be evacuated.
Wendy Wilson: "We've had a lot of questions and we've had a hard time figuring out who to talk to, who's responsible."
That's probably because those responsible aren't sure yet who's responsible. When the first developer, Landco Development, wanted to begin developing homes there they asked Earthtec Engineering in Orem to complete a geotechnical study for them. Earthtec found evidence of past landslides for one site, the last in 1983.
In their report, for that one site, they said, they do have the potential to again become unstable and continue moving downslope, especially during periods of above normal precipitation, and based on the high potential for future slope instability it is recommended that no development take place on the steep mountain slopes along the Eastern boundary of the site.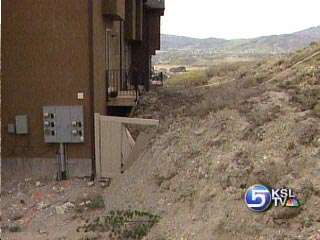 But that's exactly where these home are located. Why? Because a new developer, Dakota Homes, hired AMEC Environmental to do another study on that specific site. Their report said, "it is their opinion that by proper grading and drainage improvements, the stability of the presently stable lower 1983 slide mass can be increased sufficiently to allow for construction."
Basically that report allowed the developer to go forward and Cedar Hills approved it, knowing the potential danger.
AMEC engineering has not returned our call. The new developer, Highland Homes, said they basically bought the mess they're in now from the prior developer. So who's at fault? The city, the developer, the engineering firm who okayed construction? It could be all three.
The sad part is the people who bought those town homes had no idea.
×
Most recent Utah stories