Estimated read time: 2-3 minutes
This archived news story is available only for your personal, non-commercial use. Information in the story may be outdated or superseded by additional information. Reading or replaying the story in its archived form does not constitute a republication of the story.
Sam Penrod ReportingA rough ride this afternoon for more than 250 school children on a Heber Valley Railroad ride. Another train car collided with them, sending three children and one adult to the hospital.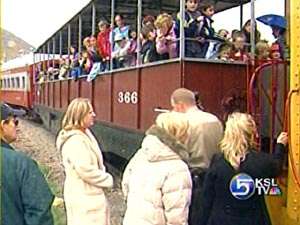 The good news is that no one was seriously hurt; those taken to the hospital were treated and released. But several other students were shaken up by this, when without warning, another train car rammed into the back of the train.
The accident happened about 1:00 this afternoon along the Heber Valley Railroad line in Wasatch County. The train was loaded with students from school districts all over Utah, about 250 are estimated to have been aboard when the accident happened.
We are told it was caused by a loose passenger car that started rolling down the track. Apparently the empty train car picked up momentum from gravity on the track and started downhill. The train was stopped for a moment and that's when the empty car rammed it from behind. That's when those on board report getting bumped hard--many people, especially adults, say it knocked them off their feet.
Pam McDonald , Teacher: "We were having a fun time on the train and there was a little bump. Some of them slipped or got bumped or fell a little bit."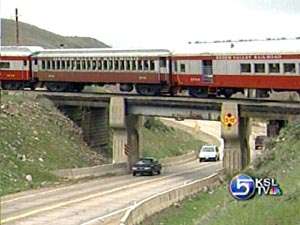 Nate McDonald, Heber Valley Railroad: "Safety is definitely very important and we are investigating, all hands are on deck right now investigating to try and find out exactly how the car was loose and how it bumped into the railroad and how it happened."
Investigators are looking into the possibility that the empty train car did not have wheel blocks in place, but aren't sure yet how it started moving.
The students were taken to Vivian Park, where buses were waiting to take them back to their schools. The Heber Valley Railroad says that in its 13 year history, this is the first time someone has been hurt.
×
Most recent Utah stories