Estimated read time: 2-3 minutes
This archived news story is available only for your personal, non-commercial use. Information in the story may be outdated or superseded by additional information. Reading or replaying the story in its archived form does not constitute a republication of the story.
Tonya Papanikolas Reporting Antique Stores on 3rd South have been losing money because of a burglar who seems to know what's valuable and what's not.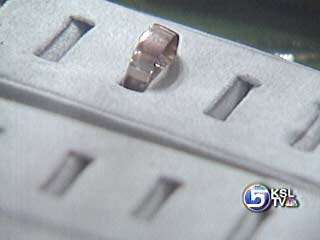 3rd South has a lot of antique stores. In the last couple months there have been two burglaries and one attempted burglary on this street. The three store owners feel like it's the same person who has targeted them all. They feel like it's probably someone who's cased out the stores and knows where the valuables are.
Jewelry is a big draw for antiques customers, but lately some owners have been worried about their inventory, since three antique shops were targeted by burglars.
Carmen Litvin, Litvin Gallery Antiques: "We came in on Sunday morning and saw that somebody came in through the bathroom window."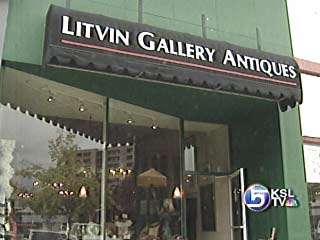 Litvin Gallery Antiques was burglarized in March. They sell beautiful costume jewelry, but now their most expensive items are gone.
Carmen Litvin: "18-karat gold sets of earrings, and lots of wedding bands, beautiful wedding bands."
The burglar left behind one Tiffany's ring, along with mismatched earrings. They also stole sterling silver flatware. It all added up to about 30-thousand dollars.
Carmen Litvin: "We hope that the customers still stick with us."
About a month later Briar Patch Antiques was hit.
Boyd Smith, Briar Patch Antiques: "They cleaned out the coins and the sterling silver underneath the counter. And then went through all my drawers, got all the good stuff out of my drawers."
The suspect must have taken a hammer to the silver coin boxes, and again, cleaned out the jewelry case leaving only one gold ring.
Boyd Smith: "It's probably somebody who's been in many times."
Merle Allred, Antoinette's Antiques: "The thing that concerns me is that if they're this desperate, will they come back?"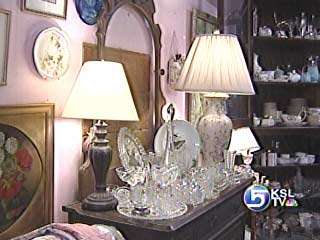 Just this weekend, someone attempted to break in to Antoinette's Antiques through the business next door. They pounded a hole through the wall, but the alarm went off and the suspect took off, leaving about a thousand dollars in damage.
Merle Allred, Antoinette's Antiques: "I feel really grateful because if they'd gotten up here into my other cases, it would have been far larger than that amount."
Police told us they're looking into any connections between the burglaries. A couple owners said they wished officers patrolled this street more at night. Litvin Gallery has already added extra security at their store.
×
Most recent Utah stories