Estimated read time: 1-2 minutes
This archived news story is available only for your personal, non-commercial use. Information in the story may be outdated or superseded by additional information. Reading or replaying the story in its archived form does not constitute a republication of the story.
Nadine Wimmer ReportingIdentical twins are in jail tonight for switching identities in a place where it's illegal. Silviu Nedelcu worked as an airline refueler at the Salt Lake International Airport. But faced with a schedule conflict, he asked his brother to fill in for him in this restricted area.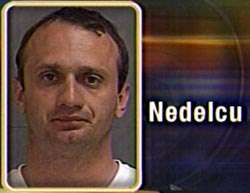 They thought they could pull it off since Sliviu and Olimpiu are identical twins, but people quickly figured something was up, and similarities ended with their fingerprints.
Swapping identities is a perk only identical twins could get away with, but it doesn't usually get them a federal warrant for their arrest.
¶Shauna Taylor would love her twin to fill in during public speaking assignments. But they learned early on it doesn't work.
Sherri Spencer, Twin: "In kindergarten, she had afternoon, I had morning. And I wanted to know what it was like so we switched for a week."
Shauna Taylor, Twin: "There are differences and the people who know you well, immediately know you're the other person."
They drew the line after kindergarten capers. They didn't switch for tests, for dates, they don't even share a card to Sam's Club.
Shauna & Sherri: "Mom kind of sat us down after the kindergarten episode and talked to us about honesty, that we shouldn't use that as a way of tricking people. That's not very nice."
That's a lesson the Nedelcu brothers can now at least ponder together. They face a court appearance on federal charges later this week.
×
Most recent Utah stories