Estimated read time: 1-2 minutes
This archived news story is available only for your personal, non-commercial use. Information in the story may be outdated or superseded by additional information. Reading or replaying the story in its archived form does not constitute a republication of the story.
Jed Boal reportingNew warnings tonight here in the Salt Lake Valley. The streams in Big and Little Cottonwood Canyons could soon be raging and dangerous.
This is a public safety message, and actually there's a period of vulnerability now for several weeks as the high mountain snow starts to melt across the state.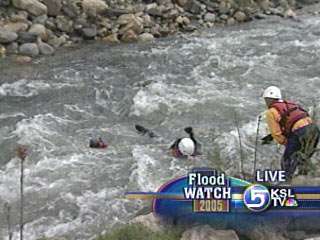 Lt. Jon Fassett, Salt Lake County Sheriff's Office: "With all the snow that's up in the mountains, and the warm weather coming, these creeks are starting to rise. We want people aware this is going to be a warm weekend, and we're just concerned about the safety of kids and adults who are on this water."
We haven't even entered the peak of the runoff, but it's already obvious the water could whisk someone away quickly. The running water is an invitation for kids to get into trouble.
Lt. Jon Fassett: "This creek right now is running about 100 cubic feet per second, which is a pretty good flow. It doesn't look like much, but it's really moving fast. Up the canyon, where it's a lot steeper and a little bit narrower, it's really flowing fast and they're really in danger there."
Another thing to consider is that the peak of this snowmelt is a week, maybe even two or three weeks away, so this is a very serious period of vulnerability for quite some time.
×
Most recent Utah stories