Estimated read time: 1-2 minutes
This archived news story is available only for your personal, non-commercial use. Information in the story may be outdated or superseded by additional information. Reading or replaying the story in its archived form does not constitute a republication of the story.
Keith McCord ReportingIf you have teenagers with cell phones, you know that they don't just talk on them, they send text messages. An Orem teenager is so good at sending text messages he'll be on the Tonight Show tomorrow night.
Meet Ben Cook, a 17-year old junior at Orem's Timpanogos High School -- typical student; on the basketball team; has a lot of friends. Like so many young people he keeps in contact with his friends with a cell phone, and most of the time by text messaging, not actually talking.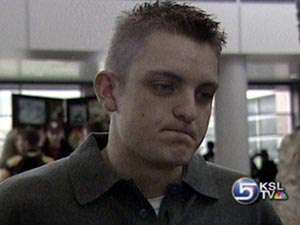 Sending a text message is not such a big deal these days, but if you get one from Ben, you should know this, he held the Guiness Record for being the fastest text-messenger in the world!
Reporter: "How did you get so fast at doing this?"
Ben Cook: "You know, I don't even know that. It just kind of came naturally to me."
He entered a contest a few months ago, sponsored by Cricket, and had to type a certain sentence as fast as he could. By winning, he now has a free phone and unlimited text-messaging, and has done a commercial for Cricket.
Ben's fast and nimble thumbs have drawn the attention of the "Tonight Show" with Jay Leno. He'll be on tomorrow night, paired against a guy who's a morse code expert. Each will get a new phrase to type to see who's the fastest!
Win or lose, doesn't matter-- Ben's thumbs have created quite a buzz at school. When Keith contacted Ben to arrange today's interview, he didn't call him on his phone, he naturally sent a text message!
×
Most recent Utah stories