Estimated read time: 1-2 minutes
This archived news story is available only for your personal, non-commercial use. Information in the story may be outdated or superseded by additional information. Reading or replaying the story in its archived form does not constitute a republication of the story.
Sandra Yi ReportingTwo men are in jail after leading state police on a high speed chase on I-15, and it was all caught on tape. The chase began just before the morning rush hour.
A trooper clocked the SUV going 86 miles an hour on I-15. He tried to pull the vehicle over, but the driver refused to stop.
Just before the 215 interchange, the driver signaled to change lanes, then nearly sideswipes a car in the HOV lane. It appears to be over when the driver stops. But then the driver throws his car into reverse and slams into the patrol car.
Trooper: "He slammed my car. 10-80, 10-80."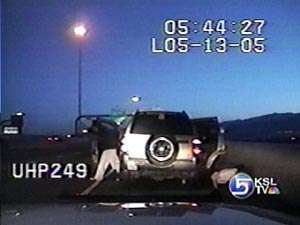 The driver takes off again, heading north on I-15 at high speeds. The Utah Highway Patrol spiked the tires and the driver eventually gave up at 3800 South. Two men got out of their car with their hands in the air. One of them lay in the middle of the lane.
Troopers arrested the driver, 22-year old Nicholas Pedigo, and 21-year old Scott Sawyer. They now face numerous charges.
A pregnant woman was also in the vehicle, but she was not arrested. Highway Patrol says the SUV was reported stolen out of Colorado.
×
Most recent Utah stories