Estimated read time: 2-3 minutes
This archived news story is available only for your personal, non-commercial use. Information in the story may be outdated or superseded by additional information. Reading or replaying the story in its archived form does not constitute a republication of the story.
SALT LAKE CITY (AP) -- Flaming Gorge Dam will be releasing high flows of water into the Green River in the next few weeks to scour sediment below the dam and improve habitat for trout and endangered native fish species.
The federal Upper Colorado River Endangered Fish Recovery Program has been working to save native fish in the region.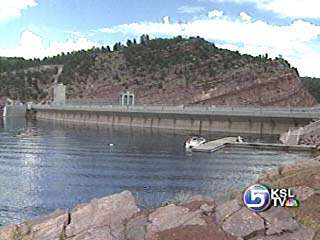 Fish like the Colorado pike-minnow, razorback sucker, humpback chub and bonytail chub are under stress from dams, diversions and barriers, the project said. Also contributing to their decline are the introduction of nonnative competitors, plus fishing, parasites and pollutants, it said.
Scientists hope the releases will flood some spots to increase fish habitat.
"It floods backwaters, and that's what the endangered fish need," said Mark Vinson, research assistant professor in the Aquatic, Watershed and Earth Resources Department at Utah State University. "If you don't flood those flood plains, then those fish have nowhere to live."
Vinson and his students will check stretches below the dam for fish, snails and insects.
The U.S. Bureau of Reclamation's series of short-term experimental high flows could reach 8,500 cubic feet per second, the agency's Salt Lake City office said.
The releases would combine with flows from the Yampa River. The bureau is waiting for the Yampa's peak spring runoff levels, which could come in the next week or two, to start the experiments. Normally the Yampa peaks about May 23.
Recreational uses of the river should not be affected, and the boat launch facilities below the dam at Little Hole and Indian Crossing will remain open, the bureau said in a news release.
Scientists are hoping the high flows will scour out some of the sediment below Flaming Gorge Dam. The material flowed into the river because of erosion after the Mustang Fire, several years ago, the bureau said.
Fish larvae and beads that simulate larvae will be released into the Green River at specific flow levels. They will be checked downstream.
"They want to see what the distribution will be" of fish larvae during high water, said bureau spokesman Barry Wirth.
(Copyright 2005 by The Associated Press. All Rights Reserved.)
×
Most recent Utah stories