Estimated read time: 2-3 minutes
This archived news story is available only for your personal, non-commercial use. Information in the story may be outdated or superseded by additional information. Reading or replaying the story in its archived form does not constitute a republication of the story.
John Hollenhorst ReportingAn army of volunteers has been at work in West Jordan the last few days. They're building something no one will ever live in, but that should make the city a better place for kids. They claim it's the state's biggest playground.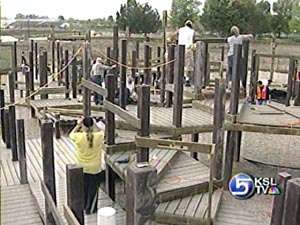 It covers about a half-acre and rises as high as 35 feet. The tall part will eventually be a replica of the Saltair Pavilion. What's really remarkable though is the size of the volunteer contingent.
Even on a day when thunderstorms threaten to spoil everything, dozens of volunteers turned up. Some nights hundreds have been here working. The age range of volunteers is from ten to retirement age.
Donna Adams, Volunteer: "Well for my great-grandchildren. They're going to come down and play here."
Jennifer Scott, Project Coordinator: "This is the modern equivalent of an old-fashioned barn raising. And there's a sense of community and spirit that's here."
Jennifer Scott thought it up along with her sister. And now in a city park west of West Jordan City Hall, the Wild West Jordan Playground is taking shape. School kids voted on the name. The theme is Utah History so when volunteers finish expect to see frontier facades, a jail, a copper mine, and maybe a fort or two. All designed for kids to have fun in, and built to last at least until the kids themselves have kids.
Golden Reeves, Volunteer: "Yeah it's gonna be here for one heck of a long time."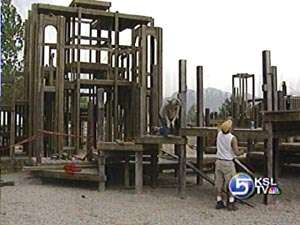 About 100 companies have donated either money, hardware or services. School kids donated 400,000 pennies, helping push the project towards it's goal of 400,000 dollars.
Jennifer Scott, Project Coordinator: " We can do this for $400,000 because we have a million dollars of donated labor. So we're able to get it done. You could never do this on a city budget or a school district budget."
×
Most recent Utah stories