Estimated read time: 3-4 minutes
This archived news story is available only for your personal, non-commercial use. Information in the story may be outdated or superseded by additional information. Reading or replaying the story in its archived form does not constitute a republication of the story.
Sam Penrod and John Daley reporting/AP contributingWind was the story of the night across northern Utah. Semis tipped over. Roads shut down. Trees torn up, and power knocked out. All this with rain, and possibly flooding, on the way.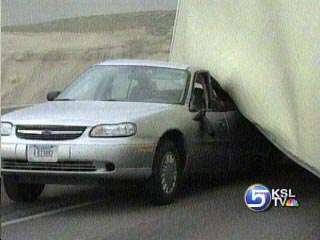 Rand Andrus, Battalion Chief, Unified Fire Authority: "In 28 years in the fire service I have yet to see wind like this. This is more like when I was back east when the hurricane came through."
Wind gusts of 70 to 80 miles per hour knocked four semis on their sides at the Point of the Mountain Monday night. That snarled traffic for hours! And at least two semis reportedly overturned on Interstate 80 near Wendover.
As soon as the high winds hit the Salt Lake Valley, they tossed around semi trucks on I-15 as if they were toys.
Within five minutes, four semis landed on their side on a half mile stretch near Point of the Mountain. One of the tractor-trailer rigs fell onto a passenger car with two people inside.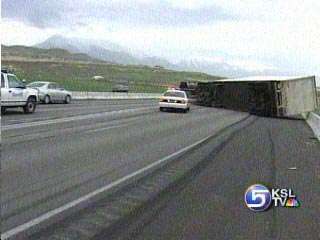 The truck drivers were not injured.
Emergency workers were having a difficult time even standing up in the wind. It's been even harder trying to upright the blown-over semis.
Northbound traffic on I-15 reopened around 8:30 pm, and by 10 pm two lanes were open southbound.
Officers urge motorists to use caution if they have to drive in weather conditions like this.
That isn't the only part of the valley dealing with the aftermath of the high winds.
A severe thunderstorm warning went out from the National Weather Service late Monday afternoon and it was definitely severe, as the storm swooped in and took out trees and power lines.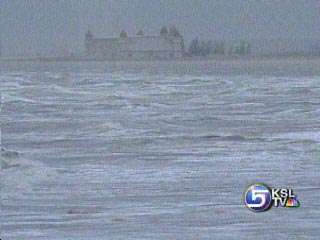 You know we're getting a storm when the waves on the Great Salt Lake start looking like the ocean and even the pirate ships are afraid to leave safe harbor.
At Salt Lake International, even the birds find the flying dicey.
Up above, passenger jets were flying directly over the airport, then circling back around rather than land with the danger of crosswinds and wind shear. One passenger on a flight from Vegas says the flight crew barely left their seats.
Scott Collins, Airline Passenger: "It was really bumpy. There was a lot of turbulence. They wanted to discontinue service during the flight it was so bumpy."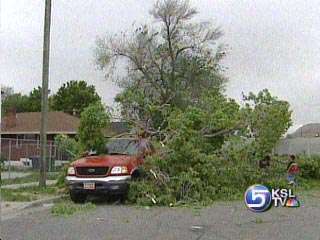 Not far from the airport gusts blew down big trees, damaging homes and businesses along North Temple, like the der Weinerschnitzel, the Red Iguana and a motel next door.
Dennis McKone, Salt Lake City Fire Dept.: "We've had a tree and a pole come over. We've had a power outage. The trees fell over on a couple of cars."
Nearby the neighborhood kids found a new place to explore as another large tree came down with a loud crash.
Jeff Badley, Salt Lake City Resident: "It sounded like someone turned on a giant fan. I mean, huge. The sound was huge like crackling, like thunder and lightning. You could probably hear it a couple blocks away."
The downed power lines knocked out electricity to many homes and businesses. Utah Power & Light said at the peak outage, at 8:49 p.m., there were 18,000 customers in northern Utah and southeastern Idaho without power. Spokeswoman Margaret Oler said that at 9:36 p.m., the number was down to 16,000.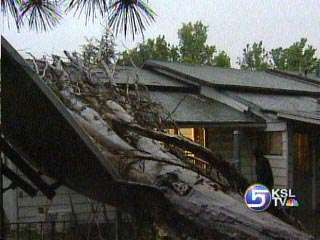 The western part of Salt Lake Valley, including Magna, West Valley City, West Jordan and South Jordan, was affected the most.
The high winds were in advance of a front that lowered temperatures 20 degrees and dropped up to 1 inch of rain in some areas by late Monday.
(The Associated Press contributed to this report.)
×
Most recent Utah stories