Estimated read time: 2-3 minutes
This archived news story is available only for your personal, non-commercial use. Information in the story may be outdated or superseded by additional information. Reading or replaying the story in its archived form does not constitute a republication of the story.
John Hollenhorst ReportingState geologists have issued a report on last week's destructive incident in Provo when a boulder smashed into a residential neighborhood. The bottom line is it's a hazard zone and people need to recognize it. But the real question is whether anyone can or should do anything about it.
The problem is as obvious as the 10-ton boulder perched on a slope in a residential neighborhood. There are thousands of boulders. So many, they're part of homeowners' landscaping. Some have been here for millennia, others just a few years.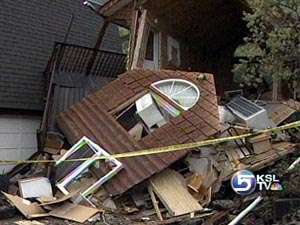 Nick Jones, Provo City Engineer: "Most of the lots in that particular area has a rock in each one of the lots. They didn't grow there. They fall from above."
High above a limestone cliff occasionally fractures. Last week a 13-ton chunk bounced and rolled more than a mile before smashing a guest house to smithereens. The renter hadn't thought about the hazard when he moved in.
Duncan Peterson, Provo Resident: "Hadn't, ha ha. I was young and naïve."
And yet geologists say the risk in this particular area should be obvious to all.
Richard Giraud, Utah Geological Survey: "Rock falls don't occur very often but when they do the results can be disastrous. "
One of the biggest problems with a natural risk like this is human nature. It's hard for people to take a theoretical risk seriously until something actually happens.
Richard Giraud: "A lot of people will be in denial in regard to a natural hazard. But once it happens, then they'll believe it."
After some homes were built in the 1970's Provo adopted a "geologic hazard ordinance". A few blocks away a new developer is required to install a berm, which will have a fence on top to stop rolling boulders.
Nick Jones: "You can't protect against the most extreme situations. Generally speaking you can catch most of those."
Duncan Peterson: "I think that's an option. I don't think it would have stopped that rock."
Provo can't order an older neighborhood to retrofit. It's up to homeowners themselves to decide how much protection they're willing to pay for. Geologist Richard Giraud said he thinks the neighborhood could be adequately protected with berms for a total cost well below a million dollars.
×
Most recent Utah stories