Estimated read time: 2-3 minutes
This archived news story is available only for your personal, non-commercial use. Information in the story may be outdated or superseded by additional information. Reading or replaying the story in its archived form does not constitute a republication of the story.
Sandra Yi ReportingDet. Dwayne Baird: "He was in an adjacent stall with the door closed, so he couldn't be easily detected by someone in the next stall."
Police catch a videotaping voyeur in a women's bathroom at Liberty Park. They say there are several victims, including a little girl. Police are trying to identify the girl on the tape. They believe she was videotaped last night between 5 and 7 o'clock.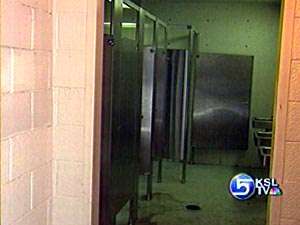 Police say the suspect was videotaping in a women's bathroom by the Children's Garden at Liberty Park. Yesterday evening a woman walked into a stall and caught him red-handed.
Det. Dwayne Baird: "He was obviously here to videotape people that were using the restroom facilities."
Police say a peeping tom had his eye and camera on girls inside the Liberty Park bathroom.
Det. Dwayne Baird: "They often will look for places that people will be, so they can get the opportunity to commit this kind of crime."
Yesterday he startled a woman who caught the guy in the act. Police say he hid in an adjacent stall. The victim didn't know he was there, until she saw the camera at her feet.
Det. Dwayne Baird: "Our victim realized what was going on and she immediately exited the bathroom and came outside and told her boyfriend what was going on."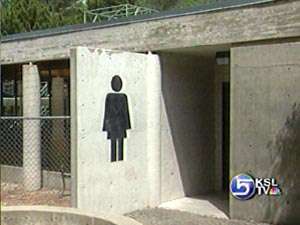 He waited for the guy to come out and held on to him until police arrived. They arrested 30-year old Manuel Rodriguez-Cano. Police say the tape in his camera revealed disturbing footage.
Det. Dwayne Baird: "The officers that arrived on scene were reviewing the tape and realized there are multiple victims here."
Including a little girl. Police say she's between five and seven years old. She has blond hair and was wearing an orange flower top and shorts.
Det. Dwayne Baird: "We do not know who that is, but we want the parents of this victim to come forward."
Police say voyeurism is a serious crime. They say it doesn't happen often, but they urge everyone to be alert in public places.
Det. Dwayne Baird: "There is no reason, anywhere you would be, in a private setting, where you expect to have privacy, that there would be any reason for anyone to have a camera of any kind."
Again, police are looking for the parents of the little girl on the videotape. If you think you know who she is, call Salt Lake City Police.
The suspect was booked for voyeurism and voyeurism of a child, which is a felony. He could face more charges for other victims.
×
Most recent Utah stories