Estimated read time: 2-3 minutes
This archived news story is available only for your personal, non-commercial use. Information in the story may be outdated or superseded by additional information. Reading or replaying the story in its archived form does not constitute a republication of the story.
Sandra Yi ReportingSummit County has a murder mystery on their hands. This after the gruesome discovery of body parts near the Utah-Wyoming border last month. Still there are no suspects, but police are searching for a 'person of interest'.
Nearly a year had passed before anyone even knew that John Mayo had been killed and dismembered. No one's been arrested for the crime, but investigators say an associate of his may have some answers.
50-year old John Mayo, died a violent death.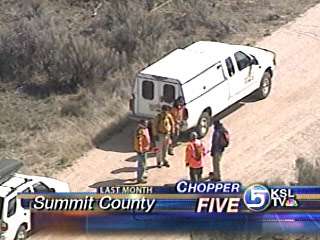 Chief Deputy Dave Booth, Summit County Sheriff's Office: "The body obviously was dismembered. We know it was intentionally dismembered."
His body parts were strewn along the Utah-Wyoming border. For weeks the body's identity remained a mystery as crews searched for evidence. Then there was a break in the case. Investigators identified Mayo through fingerprints. They believe he was killed sometime last summer.
Dave Booth: "We believe that there are either a murder or murderers that were out there, that were involved in this."
Mayo lived in a Salt Lake City home. He was a registered child sex offender, convicted in 1991. Investigators say the motive could lie in Mayo's past, but there are no suspects. Summit County has identified 'a person of interest' in the case, 33-year old Mark Allen Carlson. He goes by the street name, 'Neptune'.
Dave Booth: "We do know that he was one of the last persons seen with our victim."
Authorities have not named Carlson a suspect, but they believe he can put an end to the case.
Dave Booth: "And that's what we're struggling with right now, what was the motive? What was the intent behind this? How did we get from Mr. Mayo alive, to Mr. Mayo dismembered?"
Investigators believe Mark Carlson is in the Salt Lake area. He has a warrant out of Adult Probation and Parole and is considered armed and dangerous. If you see him, don't approach him, and call police.
×
Most recent Utah stories