Estimated read time: 1-2 minutes
This archived news story is available only for your personal, non-commercial use. Information in the story may be outdated or superseded by additional information. Reading or replaying the story in its archived form does not constitute a republication of the story.
Sammy Linebaugh reportsA major South Salt Lake road was shut down for two hours while police and emergency teams cleared the mess from a strange crash.
A driver smashed through a pole, fire hydrant, and fence, all within a matter of minutes. The driver says another driver's road rage is the cause.
A stretch of 700 East was quite a mess last night, all thanks to a pretty bizzare accident. Two cars, a telephone pole, a fence and a fire hydrant were involved in the late night crash.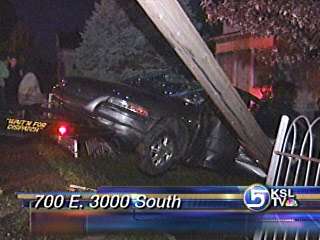 David Gurele says he and his children were travelling down 700 East when another driver flashed an obscene gesture at him. Gurele says he yelled back and then the other driver pulled up behind him, and hit his car.
David Gurele/Hit Pole, Fire Hydrant and Fence: "I hear a 'bam' from the rear passenger side and then I just lost control. I swerved right into the.. I saw the pole there and I just drove right into the pole."
Gurele also plowed into a fire hydrant and a fence. His car rolled multiple times. The car is destroyed, but fortunately no one was hurt.
Crews closed the road for about two hours.
Fotunately a valve underneath the fire hydrant automatically shut off, so no water escaped. But there were some concerns about hanging wires.
Sgt. Jack Carruth/South Salt Lake Police Dept.: "The height clearance is what we're concerned about. We don't want somebody inadvertently snagging out it with their vehicle and causing more damage."
Authorities are still investigating the accident.
They say alcohol and drugs were not involved, but they're not ready to blame the incident on road rage either.
×
Most recent Utah stories