Estimated read time: 2-3 minutes
This archived news story is available only for your personal, non-commercial use. Information in the story may be outdated or superseded by additional information. Reading or replaying the story in its archived form does not constitute a republication of the story.
Richard Piatt ReportingA Salt Lake toddler dies in a tragedy that's getting more common in Utah, hit by a car in her own driveway.
Dale Maughan, Paramedic: "This is a problem, it is a preventable problem and we need to work together to take care of it so these needless deaths don't occur."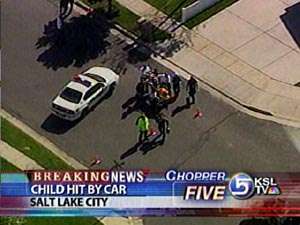 Desperate attempts to save a two-year old girl's life end tragically this afternoon. This is the kind of accident that makes most parents cringe just to hear about it. But accidents like it are more common in Utah these days. In fact right now, we're 5th highest in the nation for driveway accidents, just like this one.
Overcome with grief, paralyzing shock for a Rose Park family just moments after an accident just a few feet away. A two-year old girl is airlifted to Primary Children's Hospital--her injuries so severe that medics work on her as a team, just to keep her alive. She barely makes it through the medical helicopter ride across the valley.
Robin Snyder, Salt Lake City Police: "She received some head trauma. She was transported to Primary Children's where she died as the result of her injuries."
According to police, the little girl was playing near the rear wheel of the truck. A member of her family started to pull out of the driveway, not realizing she was there. It was the kind of accident that authorities see often enough to start an awareness campaign about.
In Utah a child is hit or killed in their driveway once a week. 'Spot the Tot' is a reminder to parents to make sure they know where their children are before they put their vehicle in gear.
Dale Maughan, Paramedic: "This is a problem here, and actually it's a problem across the nation, but it's a significant problem that seems to be growing in our area."
In a neighborhood where children are everywhere, on a street where neighbors say people drive too fast, no one expected a little girl to be hit and killed in front of her own home, but it happened. And it's something no one here will ever forget.
Police want to make sure every member of the little girl's family hears about this accident before they release her name. But no name is needed for other parents who will no doubt think twice about checking their driveway before pulling out.
×
Most recent Utah stories