Estimated read time: 4-5 minutes
This archived news story is available only for your personal, non-commercial use. Information in the story may be outdated or superseded by additional information. Reading or replaying the story in its archived form does not constitute a republication of the story.
John Hollenhorst and Tonya Papanikolas reporting Fears over flooding hit an all-time high in Utah, as high temperatures melt more snowpack, sending waters rushing down mountainsides.
From Cache County to St. George, residents across the state are on their toes this morning, getting ready for flooding.
Several parts of the state are already experiencing problems with flooding this morning. Other parts remain under flood watches and warnings.
Southwestern Utah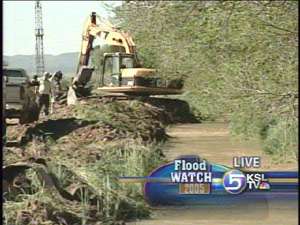 In Southwestern Utah, residents are trying to head off the spring runoff before it does real damage. The strategy Sunday was to cut trenches across some major roads north of Cedar City.
It's been almost a quarter-century since Coal Creek looked like this. It's supercharged by high temperatures over the weekend.
It peaks a little higher every night, and is expected to hit the highest peak Tuesday night. But it may look more worrisome than it actually is. Thanks to a lot of advance preparations, the main channel is easily holding it through Cedar City. But there is trouble just outside of town.
Midvalley Road is one of the main travel roads in this area west of the town of Enoch. It's acting as a dam, and construction workers cut through it to relieve the threat to a nearby subdivision.
Coal Creek is running like ten-thousand firehoses. And the peak fllows are getting a little higher every night. Local forecasters predict it will keep building until Tuesday night.
The main channel through Cedar City can hold the water. But the problem comes where it spreads out into fields near some country subdivisions. Homeowners are shoring up around their homes with sheets of plastic and lots of sandbags.
Vern Sheffer/ Homeowner: "Up the mountain there's still close to 58-60 inches of water up there. And it's got to come sometime."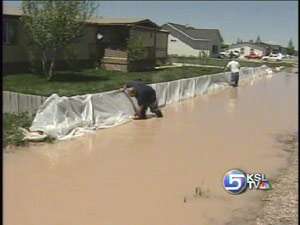 Carol Cwiklinski/ Homeowner: "We continue to have small problems, so it's hard for me to be too optimistic I guess yet." "You wish spring would be over?" "Yeah, that would be nice. I wish Tuesday was over."
Bob Tuckett/ Sandbag Team Leader: "What we got at this point is managable, if we get more then it gets outside of our preparation and it could jeopardize homes and property."
The primary effort has been to create new pathways for the water to flow, so it doesn't keep building around homes. By cutting roads, the hope is that it will flow out into uninhabited areas where it won't do any damage.
Utah County
What a mess in Utah County!
In Pleasant Grove, below the "G" on the mountain there is a lot of runoff, and a lot of flooding, but the neighborhood's coming together to divert it before it causes any more damage.
In Pleasant Grove at 500 North and 1100 East some residents waded through all the water barefoot. Others let their big trucks deal with the mess.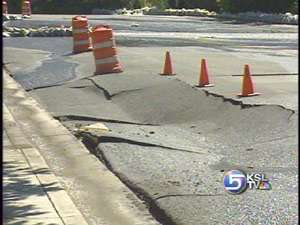 The water eroded some of the street, causing it to cave in. City officials wanted to make sure the water avoided this area. They also hoped to keep water out of homes.
Mike Daniels/ Pleasant Grove City Councilman: "We've had sandbags going all the way down both sides of the street to protect the homeowners. And so far we've been very successful with that."
Jim Black/ Home "I don't think it's got anybody's house yet, but it's warming up."
The sun is melting more mountain snow into water... which runs off into a huge pond. Later this week, the water will get so high, it will spill out uncontrolled down the street.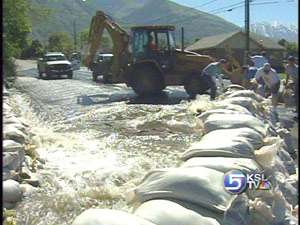 But right now they're purposely letting some out to run down the sides of the road.
That's where hundreds of volunteers come in, they're dumping sandbags to create a path for the water to flow.
It eventually dumps out into the creek.
Gary Doxey, Volunteer: "We're drawing on virtually everyone from Pleasant Grove. We've organized it so different neighbors take turns."
Erik Bond/volunteer: "We just have a close community, close neighborhood."
At the top of the hill, volunteers also held sheets of plastic to direct the water flow. They eventually put in concrete slabs to create an easy path for the water.
With these warm temperatures, the city expects the water to start spilling out of the pond on Thursday. By that time, they say they'll have new drainage pipes and concrete barriers going down the middle of the road and into the canal. They say the canal will easily hold all the water.
×
Most recent Utah stories