Estimated read time: 2-3 minutes
This archived news story is available only for your personal, non-commercial use. Information in the story may be outdated or superseded by additional information. Reading or replaying the story in its archived form does not constitute a republication of the story.
Sam Penrod reportingMembers of the Church of Jesus Christ of Latter-day Saints in Texas gathered for a temple dedication in San Antonio.
President Gordon B. Hinckley dedicated the new temple this morning.
Today's dedication makes the San Antonio Temple the 120th belonging to the LDS Church. It is the fourth in the state of Texas, and today thousands of LDS church members from Central and South Texas traveled here for a moment they have been waiting for, since plans for this temple were announced nearly four years ago.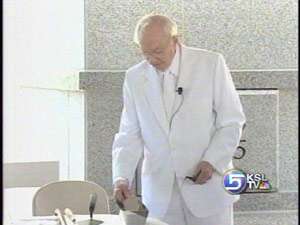 Before dedicating the newest temple of the Church of Jesus Christ of Latter-day Saints, President Gordon B. Hinckley led the traditional cornerstone ceremony outside of the temple.
President Gordon B. Hinckley: "All right. We're here to do our best, and I'll take a little mud..."
It wasn't long until President Hinckley invited some children to help him out.
President Hinckley: "One of you little boys, come right here."
One of those boys is Carly Bartling's eight year old son Jacob.
Carly Bartling/ Austin, Texas Resident: "It will be something that we will write down in our journals and something that will never be forgotten."
Elder Paul E. Koelliker/First Quorum of Seventy: "The energy that President Hinckley brings to a temple dedication is something that we all feel and it draws us to the great joy that we are experiencing."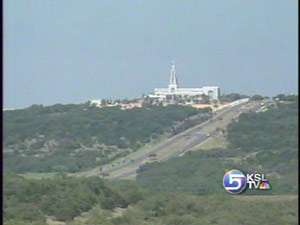 The San Antonio Temple is located on top of a hill, ten miles north of down town, and overlooks much of the city. An open house earlier this month attracted nearly 70- thousands guests.
Debra Van Deventer/San Antonio Resident: "It is a very special occasion. We have been looking forward for a very long time to having a temple here in San Antonio, to be able to come on a daily basis to do the Lord's work."
Not only will the new temple make it much easier for members to attend, church leaders believe it will bring the church more recognition.
Elder Charles Didier/Presidency of the Seventy: "I think personally this will be a landmark for San Antonio very soon where the people will recognize that we have a temple of the Lord."
Elder M. Russell Ballard/Quorum of Twelve Apostles: "It's a very significant and wonderful thing to have this beautiful temple in San Antonio, Texas. I would think that the heavens are smiling on Texas today."
The LDS church plans to dedicate other temples later this year, in Nigeria and California.
×
Most recent Utah stories