Estimated read time: 2-3 minutes
This archived news story is available only for your personal, non-commercial use. Information in the story may be outdated or superseded by additional information. Reading or replaying the story in its archived form does not constitute a republication of the story.
John Hollenhorst ReportingAnother spike is expected this evening in the spring runoff that's pouring into rivers and streams throughout the state. Officials in Southwestern Utah now say they feel confident they can keep flooding under control. But that doesn't mean everyone has been spared the ordeal of flooding.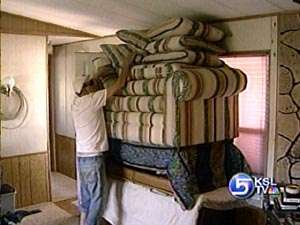 We found one small-scale tragedy west of Cedar City at the "Rockin T Bar C Ranch". It is completely surrounded, mostly submerged, by what's called an ephemeral lake. That means it's here sometimes and not here most of the time. And no one can remember it ever being this high.
When we found the house surrounded by water, we discovered that Kathy Wardlow and her Dad were inside on disaster patrol. After a brief phone conversation, we decided to take a hike to join them. They're now living in the middle of Quichipaw Lake. It was nearly dry just a few months ago.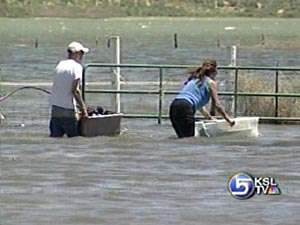 When the water first started coming up they say they called officials who told them it was impossible for the water to get up as high as the house. Now the house is swamped, along with 40 acres and a bunch of outbuildings. Wardlow greeted us at the lake that is now her front yard.
She and her dad are trying to rescue as much as they can, stacking it high. They expect the water to rise three more feet. It may stay for weeks, months, even years. Wardlow is rescuing her equestrian ribbons.
Cathy Wardlow, Homeowner: "That's what we moved here for was to raise the horses. So, just I think the water's going to get up here somewhere. So I'm just trying to save them. It's very emotional, yes it is. But I think we got a lot of stuff set up so that'll save it."
She's also trying to rescue her two cats, Spooky and Salsa.
Wardlow is angry. It's partly because she didn't get enough warning to clear out the house. Partly because she suspects water was diverted to Quichipaw Lake to prevent flooding of subdivisions elsewhere.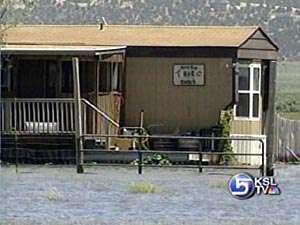 Cathy Wardlow, Homeowner: "The water can be channeled a few different ways. So in that respect, yeah, I think I'm getting angry about the water being out here, as much of the water being out here. I realize it's a low area. But just because I'm the only house out here doesn't mean that it's not devastating to me. This is our whole life."
At mid-afternoon Wardlow and her father launched a couple of plastic tubs to bring a few valuables to shore. They found Spooky, but Salsa is still missing.
Officials say the water that enters this lake does come in through a man-made flood channel, which they have widened and deepened in recent weeks. But they say that water would have come in anyway. It's just an exceptionally wet year after years of drought, and that's what makes ephemeral lakes like this come and go.
×
Most recent Utah stories