Estimated read time: 3-4 minutes
This archived news story is available only for your personal, non-commercial use. Information in the story may be outdated or superseded by additional information. Reading or replaying the story in its archived form does not constitute a republication of the story.
Amanda Butterfield reportingOvernight flooding in Utah County damages homes and forces neighbors to band together to prevent more damage.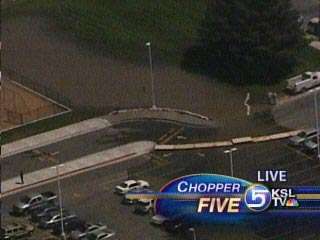 In Lehi, the grounds around Lehi Elementary School are underwater. School is being held today, so all the students are inside safe and dry inside. They'll just have to have an indoor recess today.
There are sandbags around the school and nearby houses. None of the water has gotten inside the school so far.
When the buses of kids arrived, a little bridge was formed to get the kids inside the school. Water quickly swallowed the bridge, so the kids had to be shuttle to the front doors.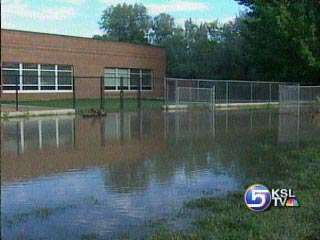 Mike Privett/Maintenance Coordinator for Alpine School District "The students are not in danger. We're keeping everything away. As you can see, the water is coming through the parking lot and on the lawn out back, but there's little to no danger to the building, the school or the students."
Lehi Elementary School is the not the only community dealing with flooding today.
In Highland this morning, there was more flooding as the American Fork River spilled it's banks.
Rivers and lakes in Utah County were able to contain record runoff-- until this morning. Fire crews and volunteers mopped up the mess caused by flooding in a Highland home early this morning.
It all started in Highland around 1:00 this morning in a subdivision where several homes are still under construction.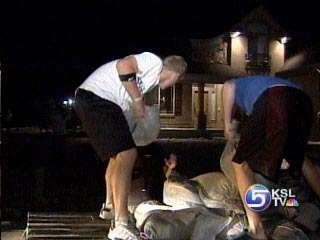 Some volunteers in an LDS ward have been keeping a round-the-clock watch on the American Fork River for days, hoping it wouldn't flood. And just as a group of teenage boys were ready to finish up their watch shift, one turned back just in time to see the river overflow its banks.
Matt Farmer/ River Watch Volunteer: "I just saw this river running down into here, and I just started running down the hill,'Call 911.'"
Within minutes hundreds of volunteers and firefighters were working side by side trying to keep water out of a nearby home.
Chief Craig Carlisle/ Lone Peak Fire Dept.: "We get down here and there's probably about 17, 18 inches in the basement, still coming in. They're trying to find the source of why it's leaking in there. As soon as they had it stopped, we were able to catch up and pump it out."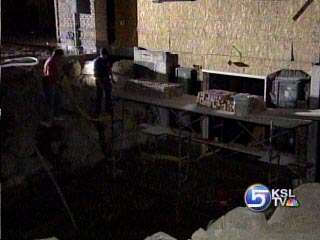 Someone was even able to call the homeowner, who only lived a few minutes away, to let him know his home was filling up with water.
Scott Blomquist says he and his family were getting ready to move into that home within the next few weeks. And while it will be quite a while before their home will be repaired and ready, he says he's grateful for his new neighbors.
Scott Blomquist/ Flooded Homeowner: "It was great to see the effort of all the neighbors, to protect all of our household belongings."
Fire crews were eventually able to find the source of the leak in the home's basement, plug it, and pump the remaining water out of the home.
Flood also damaged some other homes in the area and an elementary school playground.
A homeowner in Highland says he and some other residents are concerned about more flooding tonight, so they've rented some equipment to build a temporary dike, in hopes of keeping water out of the subdivisions there.
×
Most recent Utah stories