Estimated read time: 2-3 minutes
This archived news story is available only for your personal, non-commercial use. Information in the story may be outdated or superseded by additional information. Reading or replaying the story in its archived form does not constitute a republication of the story.
John Hollenhorst ReportingCoal Creek has been running high for days, but one official told us there are indications it may have peaked. The good news is that few properties have been seriously affected. Tonight Iron County's Search & Rescue team swung into action to help one person for whom this has been a personal disaster.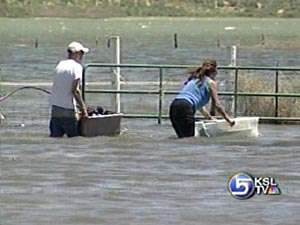 With her house and possessions surrounded by water, Cathy Wardlow was frustrated and angry this morning. An inflatable rubber raft was all the county had given her to help out.
Cathy Wardlow, Iron County Resident :"Well has anybody come out to sandbag my house? Has anybody come out to bring barriers like they did for mid-valley? Even at this point has anybody come out with a boat or anything?"
Then the cavalry came to the rescue, after we made a few calls and county officials learned of her plight. A fleet of vehicles arrived including a truck beefy enough to drive through the rising water, following a submerged road to the ranch house.
Mark Gower, Iron County Sheriffs Office: "We were wondering when we was coming if it was heavy enough to sink through. But it's a good gravel base on the roadway, so we been lucky."
Cathy Wardlow: "I'm amazed and so impressed at how they threw this together in such a short period of time."
It took just a couple of hours to clear out her house. They took out furniture. They manhandled appliances, the hard labor done by the Iron County Search and Rescue crew.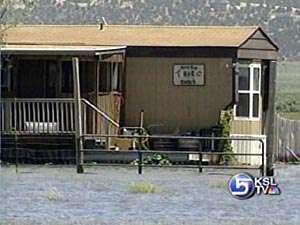 Sheriff Gower: "Feel good. I'm glad we can finally get in here and help her out."
Cathy Wardlow: "I think it's fantastic. And I'm very very grateful."
And in case you're wondering, she found a lost member of the family. Her cat Salsa was hiding in a woodpile.
Cathy Wardlow: "But she came right out and let me pick her up and we did our little hug, hug, kiss, kiss."
A lot of people are going to be happy with that ending. Cathy Wardlow has arranged for a trailer, and space to park it on a neighbor's property. She plans to live there, hoping the lake will someday recede so she can go back home.
×
Most recent Utah stories