Estimated read time: 1-2 minutes
This archived news story is available only for your personal, non-commercial use. Information in the story may be outdated or superseded by additional information. Reading or replaying the story in its archived form does not constitute a republication of the story.
Amanda Butterfield reportingA Salt Lake County woman is still missing after an overnight search. It was a very uneasy night for her family after the 76-year-old woman vanished from her backyard yesterday afternoon.
Crews searched well into the morning for the woman, but say she's vanished without a trace.
Sheriff's deputies say Cynthia Lark was last seen yesterday afternoon, gardening in her backyard. Her husband noticed she was missing around seven, and after an hour of searching, family members conviced him to call for help.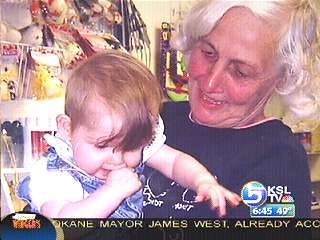 Lark suffers from dementia and sometimes has trouble communicating with people, but her family says she's never disappeared like this.
They fear she may have wandered into Millcreek Stream, which runs right behind her home. That stream is running extremely high and fast right now, due to all the rain and spring runoff.
Salt Lake County Sheriff's deputies called in roughly 20 search and rescue personnel and began searching the stream, which authorites say was somewhat dangerous considering the high waters.
Lt. Chris Bertram/ Salt Lake County Sheriff's Dept.: "There are some concerns that we have about the safety of searchers in regards to the water. So we took that into consideration, but these are experienced searchers and we're fortunate to have them out here."
Around two this morning, the search was called off for the night. Rescue teams went home to rest, but they'll be back around 8:30 this morning, picking up where they left off.
Authorities are asking for you help to find Lark. She is five foot two, 120 pounds with shoulder length gray hair. She was last seen wearing black pants and gardening shoes.
If you saw Lark yesterday or have any information that would help police, call 743-7000.
×
Most recent Utah stories