Estimated read time: 2-3 minutes
This archived news story is available only for your personal, non-commercial use. Information in the story may be outdated or superseded by additional information. Reading or replaying the story in its archived form does not constitute a republication of the story.
Sam Penrod ReportingA high speed chase on a Utah freeway ended with the arrest of two runaways from Kansas City.
The suspects are two boys, ages 17 and 14, both from the Kansas City area. Their cross country joy ride in a stolen car ended here along I-70 yesterday, and now they are facing serious criminal charges.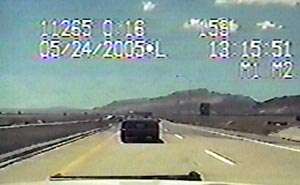 It was a normal day of patrolling I-70 near Richfield yesterday, when Trooper Kelly Roberts noticed this car seemed suspicious, because the rear window was broken out.
Sgt. Thayne Carlisle, Utah Highway Patrol: "He pulls up behind the car as it is traveling westbound, attempts to call in the license plate to see if the car is stolen. At that point, before he's even turned on his lights, the driver of the car accelerates and takes off on him."
The trooper gives chase to the car and within seconds the driver is driving above 100 miles per hour.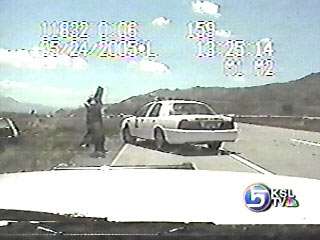 Trooper Kelly Roberts, Utah Highway Patrol: "The rear window is missing. They were doing about 75 now they are up to 112 westbound now about mile post 46. I can only see two occupants."
The trooper continues the pursuit for another five miles. At the same time other officers are blocking exits into Richfield and preparing to deploy tire spikes. Speeds in the chase go up and down between 105 and 90 miles per hour.
As the suspects keep driving in their attempt to get away from numerous officers now involved in the chase, they don't seem prepared for what is about to hit them next.
Trooper Kelly Roberts: "He hit the spikes!"
The successful deployment of the road spikes may have slowed the suspects down, but they weren't ready to give up.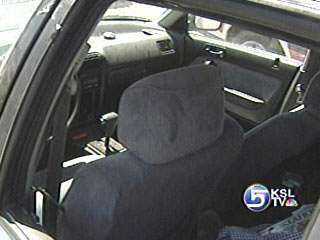 Sgt. Thayne Carlisle: "The driver decided to travel through the median, he almost struck another vehicle head-on at that point."
As the car comes to a stop, the 14-year old passenger stays in the car while the driver tries running away on foot. He gets across a fence, but is quickly nabbed by another trooper.
Authorities found traces of marijuana in the car and discovered the suspects were also wanted for stealing gas in both Colorado and nearby Salina. The two suspects are being held at a juvenile lockup facility here in Richfield. They face numerous felony charges now including auto theft and evading police.
×
Most recent Utah stories