Estimated read time: 2-3 minutes
This archived news story is available only for your personal, non-commercial use. Information in the story may be outdated or superseded by additional information. Reading or replaying the story in its archived form does not constitute a republication of the story.
John Hollenhorst reporting There are reverberations today, from a law enforcement raid in a polygamist stronghold on the Utah-Arizona border.
Critics of polygamist leader Warren Jeffs say it's a sharp blow to a dictatorial regime, but others aren't sure if Jeffs really cares.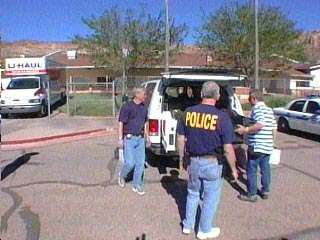 The law enforcement raid is turning up the heat on prophet Warren Jeffs of the Fundamentalist L.D.S. Church. But some say the heat has already chased Jeffs out of the kitchen.
He's believed to be living secretly at the group's new colony in Texas.
Arizona agents armed with criminal search warrants raided the public school headquarters in Colorado City. They loaded a U-Haul truck and numerous police vehicles computers, files, documents, and even some cans of beer.
A former follower of FLDS prophet Warren Jeffs says the raid is a sign he's losing control.
Richard Holm, Former follower, F.L.D.S. Church: "I feel good about it. I feel it's one more step towards having freedom in the community."
None of Jeffs' followers send their kids to the public school. But most of the public school staff are Jeffs followers.
Arizona officials portray the school as a disaster of financial mismanagement. But there are also allegations of corruption and misuse of the tax money that pours into the public school.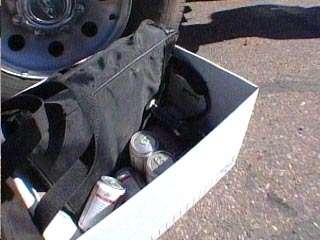 Gary Engles, Mohave County (Ariz) Investigator: "I really don't think he cares about that school whatsoever. I really don't think he cares about Colorado city or Hildale. It's just simply a place for him to keep his slaves and his flunkies to go out and earn money and send to him."
The school has been a power base and financial pillar for FLDS prophet Warren Jeffs. No matter what happens in terms of criminal charges, he's almost certain to lose control of the school in the next few months.
The Arizona governor just signed a bill allowing a state takeover of the public school. That's likely by next fall. But county investigator Gary Engles says Jeffs probably won't fight it.
Gary Engles, Mohave County (Ariz) Investigator: "It appears to me he's abandoned the place and he's encouraging his people to move to other places."
When we called the school superintendent, Alvin Barlow, he said he had no comment, and hung up on us. Other leaders of the community, church and school did not return our calls.
×
Most recent Utah stories