Estimated read time: 2-3 minutes
This archived news story is available only for your personal, non-commercial use. Information in the story may be outdated or superseded by additional information. Reading or replaying the story in its archived form does not constitute a republication of the story.
Amanda Butterfield reportingThe search continues this morning for a handcuffed suspect who escaped from inside a patrol car.
State troopers, police, and search dogs scoured South Salt Lake streets for that fugitive overnight. But after several hours, they finally called off search efforts, hoping they'll be able to find him today.
Authorities are not quite sure how the suspect got out of the trooper's car.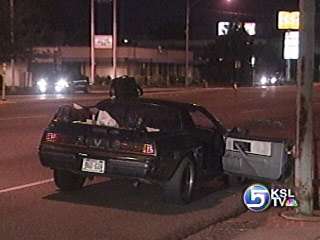 It all began around 10:30 last night, when a highway patrol officer pulled the man over on 26th South and 2nd East because of information they'd received from Salt Lake Police.
Officers in downtown Salt Lake believe the suspect tried to solicit prostitutes on State Street, and when they approached his car, he sped off.
A few hours later when the state trooper pulled the same black Firebird over, he learned the man was a fugitive wanted on $3,600 in warrants for unpaid tickets.
The trooper says he arrested the driver, placed him in handcuffs, and put him in the back of his patrol car. Then trooper then began searching the man's car and that's where the real trouble started.
Sgt. Phil Waters, Utah Highway Patrol: "While they were searching the vehicle they found some marijuana and methamphetamines and then Mr. Day escaped from the rear of the patrol vehicle."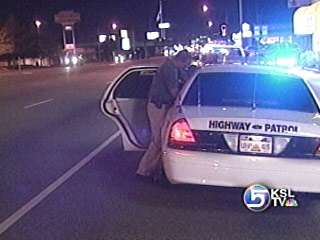 Authorities set up a containment area and tried searching for the suspect, but couldn't find him. In addition to warrants and drug charges, they say the man will also face charges for evading officers.
Sgt. Phil Waters: "The police car is like a jail once you're secured inside it. So now it's like an escape from jail."
State troppers are looking for Kevin Day. He's from Wisconsin and has only been in Utah for three weeks.
He's said to be six feet tall, and about 210 pounds. He has dark hair, a mustache, and tattoos down both his arms and neck.
And, the most telling clue -- Day should still be wearing handcuffs.
UHP says Day has tried to run from authorities before. He's known to hide out for the night, and then tries to make his getaway at daylight. Anyone with information is asked to call 911 or the Utah Highway Patrol.
×
Most recent Utah stories