Estimated read time: 1-2 minutes
This archived news story is available only for your personal, non-commercial use. Information in the story may be outdated or superseded by additional information. Reading or replaying the story in its archived form does not constitute a republication of the story.
(KSL News) Sevier River in Central Utah is on the rise, which has long-time residents ready for deja-vu.
Many lost their homes and properties during the floods of 1983.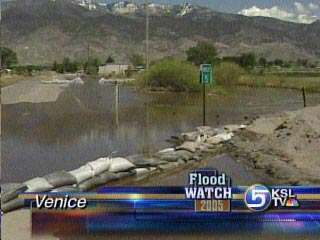 People in Venice, Utah have spent the week sandbagging, just in case the waters this year continue to rise. Already 26 homes have a sandbag barrier.
The Sevier River is already running high and runoff from the local mountains isn't helping.
Chief Deputy Delbert Lloyd/Sevier County Sheriff's Office: "These other creeks that are coming off the mountain are pouring a lot of water into it so we're just getting bombarded with a ton of water."
No one expects the river to reach the levels it did in 1983, but residents say it's better to be cautiously prepared than unexpectedly flooded.
Raging waters have forced authorities to close Farmington Canyon.
Farmington Creek has eaten away at the bank and caused a minor slide under the road, threatening its collapse.
Crews plan to divert the creek and build up part of the bank that's been eroded.
High waters are doing the same thing to the American Fork Boat Harbor. A high water table led to erosion and a large sinkhole in the marina road. The road has been closed since the sinkhole swallowed an SUV on Sunday.
The harbor will stay closed through Memorial Day and possibly for up to a month.
×
Most recent Utah stories