Estimated read time: 2-3 minutes
This archived news story is available only for your personal, non-commercial use. Information in the story may be outdated or superseded by additional information. Reading or replaying the story in its archived form does not constitute a republication of the story.
Keith McCord ReportingHere's one of those stories that we love to tell, one with a happy ending. It's about a dog who came to the rescue of a 13-year old girl who had fallen into a creek. It sounds like a storyline from one of those old "Lassie" TV episodes, but in this case, the dog's name is "Scrappy".
Scrappy lives in Moab with his masters and last Saturday was his day to shine. Last Saturday afternoon, Scrappy and members of his human family were out playing along the fast-moving Pack Creek in Moab. 13-year old Ashley Dastrup and her brothers were climbing on the rocks along the bank. She slipped and fell into the water.
Ashley Dastrup: "I slipped, and my brothers couldn't get me out, and I was yelling for help, and my dog came and pulled me by the shorts out of the water."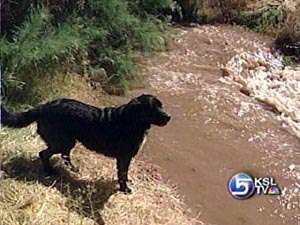 With the Spring runoff in full swing, Pack Creek is really moving right now. Ashley said she tried to grab a rock, but couldn't hold on.
Ashley Dastrup: "I was yelling for my brothers to help me, but Scrappy helped me."
And the story gets even better! Scrappy then ran back to the house and alerted Ashley's mom, Jill, who was taking a nap.
Jill Dastrup: "He woke me up and wouldn't leave me alone, and he made me go out and followed him out to where the kids were standing in the front yard. And they were all soaking wet, and that's where the story unfolded of where they had been."
And get this, the Dastrup family adopted this mixed black lab only a month ago. Talk about bonding quickly with the family!
Jill Dastrup told her kids that Scrappy will be rewarded for his heroism. And that means a steak dinner. As for the kids, they say they'll stay away from the creek for a while because it's flowing so high. And Scrappy? Well, he can obviously take care of himself.
×
Most recent Utah stories