Estimated read time: 1-2 minutes
This archived news story is available only for your personal, non-commercial use. Information in the story may be outdated or superseded by additional information. Reading or replaying the story in its archived form does not constitute a republication of the story.
Richard Piatt ReportingLast year they were praying for water. This year Utah farmers call the wet spring a mixed blessing. Richard Piatt is on the floodwatch today with an update on the moisture problems some Utah farmers are facing.
For some, too much of a good thing--water---is causing hardship, even now. It's almost June and a lot of farmers in Box Elder County are on schedule with their crops, but many are not. Their fields, even now, are swamped.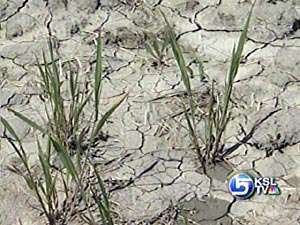 Reporter: "So you've had drought last year. This year there's too much water. How frustrating is this to you?"
And, here's what happens when it dries a little. A hard crust on top that's bad for seedlings to poke through, and sticky dirt underneath.
Wade Anderson, Farmer: "It's so wet right now you can't work it. Afraid to put a tractor on it because you'll get stuck. Can't do anything with it right now."
Most Utah farmers consider the water a blessing and this year will be fine. But for others there is still uncertainty. It's a waiting game.
Jim Hall, USDA Farm Service: "There will be some losses, but some are going to turn out ok. It's just the individual situations that's really going to hurt. "
Farmers, like the Andersons of Fielding, wonder how big a financial hit they'll have to take. They wait, unwilling to give up.
Earl Anderson: "A lot of sweat and tears here, blood. A lot of hours. But if you work for it you treat it better than if it was given to you, too..."
Vegetable crops will probably be ok, some things may be a little late. One thing's for sure, this year, with all the water, it's a much different problem than we've seen for years.
×
Most recent Utah stories