Estimated read time: 3-4 minutes
This archived news story is available only for your personal, non-commercial use. Information in the story may be outdated or superseded by additional information. Reading or replaying the story in its archived form does not constitute a republication of the story.
Alex Cabrero ReportingIn baseball you have to be able to hit, throw, and catch the ball. But you also need someone to call the ball. Umpiring is a job where no matter what, people are going to be upset at you. But one Utah umpire isn't being heckled as much as he used to.
Jim Moore, who lives in West Valley, has been umping for 35 years now. Little League, high school, college--if there's a game, he's probably calling it. This year, though, may be his last, not that he wants it to be, but some things, even for an umpire, are out of our control.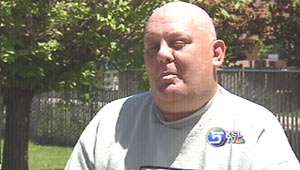 You can always tell who wins the ball game, by the final score, but everything else is up to the man in blue. Jim Moore has 35 seasons and thousands of games under his mask, and still loves it. You'd think he'd be tired of all the wear-and-tear, especially from parents.
Jim Moore: "I learned a long time ago, you gotta tune them all out."
Easy for him, not so easy for his wife, who loves baseball too.
Judy Moore: "I have to bite my tongue."
Yeah, it's tough being the only fan on the umpire's side.
Judy Moore: "It's sensitive. I don't want people screaming at my husband. Ha ha."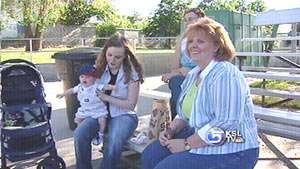 It's been this way since they met. He does the games, she watches, until something happened this past season that wasn't on the schedule.
Jim Moore; "Last summer I was getting headaches all the time, like four or five of them a day."
Jim got treatment for migraines, but the headaches continued.
Jim Moore: "So finally we had an MRI done, and that's when they found out I had two tumors in my brain."
Cancer threw Jim a life-buckling curveball. Doctors gave him six months, and that was in January.
Jim Moore: "Sigh, whew. It still hits me like a load of bricks. But I've learned how to handle it a little better."
Judy Moore; "It's surreal. It's like it's not really happening to us."
Doctors gave them a choice – Surgery, with the risk of losing his speech, mobility, and way of living at only 52-years old, or he could live his last days doing what he wanted. What would you choose?
Judy Moore; "When baseball season came it was like he got a second wind. He came alive again."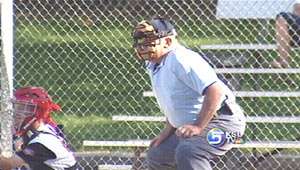 Word around the leagues spread fast, this is how Jim the umpire wanted to go. Soon parents found out. No way will they yell at him now.
Kevin Draper, Parent: "we come watch these games and get on the umpires all the time, but he actually does a pretty good job."
Judy Moore: "I just admire how positive he is about everything after everything that's happened, you know?"
Balls and strikes, out and safe--the little things that make such a great game, the little things that make a great life.
Jim Moore: "It's something I really enjoy doing and I want to do it to the very last, until I can't do it anymore."
The game we were at with Jim just might be his last game. Depending on how the playoffs go if local teams don't advance, he may not get another assignment. If not, he's hoping there is next year, but that's not up to him. We wish him the best.
×
Most recent Utah stories