Estimated read time: 1-2 minutes
This archived news story is available only for your personal, non-commercial use. Information in the story may be outdated or superseded by additional information. Reading or replaying the story in its archived form does not constitute a republication of the story.
Sandra Yi ReportingA teenager led police on a string of high-speed chases. Police couldn't stop him, but a crash did. It's the kind of thing troopers are trying to prevent this holiday weekend.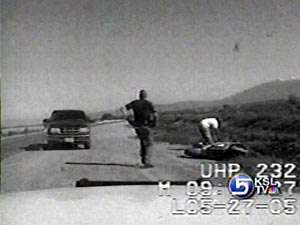 If you're hitting the road this weekend you'll notice the Utah Highway Patrol is out in force. Troopers want this to be a safe weekend. They know just how dangerous it can be.
Lt. Kenneth Peay: "It's very dangerous on a motorcycle."
But that convince one 17-year old to slow down. On I-15 near Provo a trooper tried to pull him over for speeding.
Lt. Kenneth Peay: "As soon as the motorcycle rider hears the siren and sees him, he accelerates rapidly."
At one point speeds reached 125 miles an hour. He was going so fast, the trooper lost sight of him and stopped the chase. It started up again in American Fork, but the teen managed to get away again. His luck ran out in Lindon.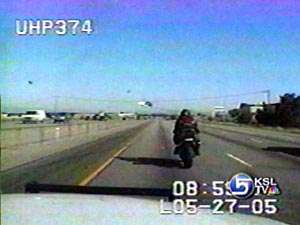 Lt. Kenneth Peay: "I have a car up on the freeway that sees the motorcycle west of the Lindon area around the dump area."
On Geneva Road a trooper saw the driver headed straight for him, but the teen quickly made a u-turn.
Lt. Kenneth Peay: "The next time he sees the motorcycle, he sees the cloud of dust and the bike is laying on the ground with the rider next to it."
The teen had crashed and fractured his leg. Troopers say he's lucky to be alive.
Lt. Kenneth Peay: "If it would have hit anyone, he would have been killed, and chances are, they would have been very seriously injured or killed."
×
Most recent Utah stories