Estimated read time: 2-3 minutes
This archived news story is available only for your personal, non-commercial use. Information in the story may be outdated or superseded by additional information. Reading or replaying the story in its archived form does not constitute a republication of the story.
Tonya Papanikolas reporting A gang fight breaks out in a Salt Lake neighborhood, scaring residents who live near the crime scene.
"I've lived in Queens, New York, and I have not seen fights like that."
"Is it going to happen again? How bad is it gonna be? You just never know."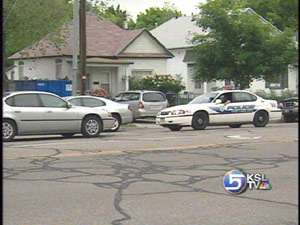 Police say the fight broke out just before 4:00 in the morning. Officers responded to the scene and found two stabbing victims.
Neighbors say two women and two children live in the home that the fight broke out in front of. But police say last night, gang members were among the dozens of people partying at the home when the fight erupted.
Lt. Steve Cheever, Salt Lake Police Dept: "The party was attended by gang members from a number of gangs. A lot of times they'll socialize together.."
Police say they don't know what caused the fight, but it escalated quickly, and neighbors heard the commotion.
Heidi Fleming, Neighbor: "I heard a lot of yelling. And then some gunshots rang out. And then there was a lot more yelling and a lot more screaming."
John Makin, Neighbor: "They were close-combat, fist-fighting, just duking it out."
Michael Ortez, Neighbor: "There was 30-40 people. (reporter question: They were all fighting?) Yeah, every single one of them."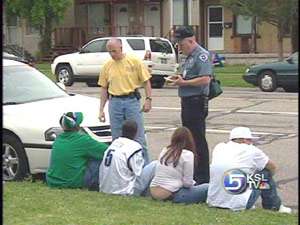 John Makin: "They were just all over. I couldn't imagine just the multitude of people fighting. And it was just horrendous."
When police arrived, the group had already started to disperse.
Heidi Fleming: "Some people went through our backyard trying to get away."
But police were able to stop a number of cars and find two stabbing victims.
Lt. Steve Cheever: "The one victim was stabbed in the side and in the back, the other victim was stabbed in the side."
The victims were treated and released from the hospital. Gang detectives spent the morning interviewing possible witnesses and those who had been at the party. Some of them were also covered in blood.
Heidi Fleming: It's pretty scary."
Michael Ortez: "A lot of people in this neighborhood have children, including myself. And it's a major concern for us. I mean, we don't want that type of thing to influence our children."
While the detectives follow up on the crime and look for suspects, neighbors say they want the people who live here to leave.
Michael Ortez: That type of thing isn't welcome in this neighborhood."
The gunshots neighbors heard may just have been shooting in the air.
So far, police have no suspects in custody, but they're continuing their investigation. They say it's possible there could be more than two victims.
×
Most recent Utah stories