Estimated read time: 3-4 minutes
This archived news story is available only for your personal, non-commercial use. Information in the story may be outdated or superseded by additional information. Reading or replaying the story in its archived form does not constitute a republication of the story.
John Hollenhorst reportingA pipeline project in the foothills above Provo has been stirring controversy.
Questar Gas is all finished with the work. But it's the mark left on the mountain that has some people concerned.
You can see why the pipeline has raised some eyebrows. It's pretty obvious where the pipe was buried a few months ago. There's not a lot of vegetation growing yet, although Questar says everyone should just be patient.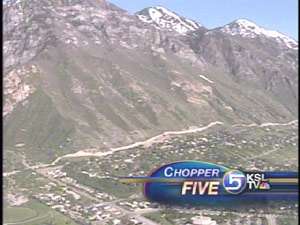 The pipeline right-of-way is easy to see from Chopper 5. It's visible from miles away. It stretches along the foothills for nearly ten miles, just above the houses of Springville and Provo. In a newspaper editorial, the Provo Daily Herald said the scar is "painfully visible" and "looks like someone dragged a giant car key across the mountain".
Some residents are more supportive.
Dave Shelton, Provo Resident: "It's a visible scar. I mean everybody can see it from anyplace. So it's not like something you want to have happen. But it's something you need to have happen."
Questar says everyone should just be patient and vegetation will grow in and erase the scar. Some residents aren't so sure.
Eileen Lewis, Provo Resident: "But it's a big scar up there and it's ugly and I don't like it." q: are you worried about the way it's going to green up over the next little while?" a: "Yes. I don't think it's going to green up."
Steve Chapman, Spokesman, Questar Gas: "We are right on track, right on schedule, everything is unfolding according to plan. It's just going to take some time for mother nature to do its work. But we're talking about a year or two-year process for this new growth to get established sufficiently to where people won't be noticing it as much."
There's been a pipeline in the area for more than 50 years. But Questar says it needed to be replaced with a larger one because of growing demand for natural gas along the Wasatch Front.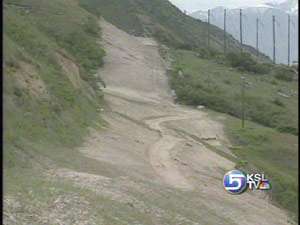 In places, vegetation is already growing through the hydro-mulch layer that Quester sprayed onto the scar. Some residents say they DO think it will get back to normal eventually, and they're willing to give Questar a chance.
Ron Nuttall, Provo Resident: "It sure has taken a long time from when they seeded it. And maybe it just takes longer. I do quite a bit of gardening and seeds don't usually take that long to come up, hah, hah."
Dave Shelton, Provo Resident: "It didn't green up as much as the rest of the mountain. But I believe it just takes time for the roots to break down the soil and make it so it grows again."
Eileen Lewis, Provo Resident: "I don't believe it. I don't believe it. I think we're going to have that scar there from now on."
Questar says one of the reasons it's so visible is because it's still covered with brown hydro-mulch.
That makes an especially sharp contrast right now, because the rest of the foothills greened up vividly in the wet spring.
×
Most recent Utah stories