Estimated read time: 1-2 minutes
This archived news story is available only for your personal, non-commercial use. Information in the story may be outdated or superseded by additional information. Reading or replaying the story in its archived form does not constitute a republication of the story.
Sam Penrod ReportingConstruction work began today on a Utah County highway that will soon see a big surge in traffic. It's state road 92 on the Alpine-Highland exit, which will be the gateway to the new Cabela's outdoor superstore.
Work crews have a big job ahead of them. In a short amount of time they will expand the two lane highway to five lanes to help accommodate all of the traffic that Cabela's will be attracting to the area.
State Road 92 leads from the I-15 exit near point of the mountain, east to Highland and Alpine. Both of these communities are dealing with sudden growth in recent years, as well and the addition of the Traverse Mountain development. Crews will widen the road for a mile and a half east of the freeway to the five lanes. The southbound off ramp will be widened to allow for two left hand turn lanes to turn east on highway 92. And the park and ride lot will be moved to the west side of the freeway.
Brent Wilhite, UDOT Spokesman: "We're just asking motorists to be patient and bare with us. Construction is never easy to deal with, but we recommend motorists to plan ahead. If you give yourself a little extra time, then you're going to be a lot happier on the road."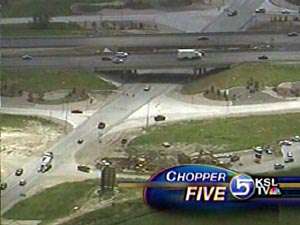 Meanwhile, construction work is continuing on the nearby Cabela's store. The 180- thousand square foot building is expected to bring in more than four million people a year, as well as attract several other businesses to the area. Cabelas is expected to be finished and open for business in mid-August.
The construction there will be on the fast track; UDOT is hoping to have the road project finished by August 10th.
×
Most recent Utah stories