Estimated read time: 3-4 minutes
This archived news story is available only for your personal, non-commercial use. Information in the story may be outdated or superseded by additional information. Reading or replaying the story in its archived form does not constitute a republication of the story.
Carole Mikita ReportingA frail, 91-year old man faced a media horde outside his California home today. His face mostly in shadows, illuminated by the staccato flash of cameras. It was a fitting way for one of the most shadowy and intriguing figures in American lore to come forward.
Mark Felt, a former FBI agent who had a stint here in Utah is said to be "Deep Throat", the confidential source who spilled the beans about the "Watergate" scandal that brought down the Richard Nixon presidency. Mark Felt's family members say they're glad he got it off his chest.
Joan Felt, Daughter: "He's happy. He's grinning from ear to ear."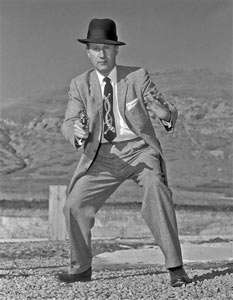 The former associate director of the FBI broke his silence in a Vanity Fair article, and the Washington Post later confirmed the report. Felt was the confidential source who put Post reporters Bob Woodward and Carl Bernstein on to the Watergate scandal that ultimately brought down the presidency of Richard Nixon.
Not everyone's calling Felt a hero, certainly not G. Gordon Liddy who served prison time for his role in Watergate.
G. Gordon Liddy, Watergate Conspirator: "If Mark Felt was Deep Throat, he's no hero. He's someone who behaved unethically in that he didn't take his evidence to a grand jury and seek an indictment. That's what he should have done."
Felt's daughter says her father decided to go public when he found out his story could make money to help pay for his grandchildren's education.
For years there was speculation "Deep Throat" had Utah ties. It turns out he did. And there is an even more famous Utahn who helped make this story memorable on film.
The story of Watergate involved men who lived here in different decades and whose influence reached from Salt Lake's FBI office to the big screen. Bob Woodward and Carl Bernstein gave the film rights to Robert Redford. He was producer, as well as star, and told Chris Matthews on 'Hardball' that with the spotlight came responsibility.
Robert Redford "A lot of research became very important. So, when I got that involved in the research with Bob and Carl, who were very generous and certainly very cooperative, I learned more than I ever expected to know about Watergate."
Redford says he asked Woodward early on about 'Deep Throat's' identity, but when the reporter declined to reveal his source, he didn't push him.
Robert Redford: "I figured if bob ever wanted me to know, he'd tell me. And in the meantime, part of me hoped it wouldn't come out because the mystery had such theatrical advantages."
What played out in theatres had been front page news for years, but this story had humble beginnings. Mark Felt was born and raised in Idaho, and from October 1956 to March 1958 was head of Salt Lake's FBI office. A retired Utah agent says he's not surprised by the news.
Louis Bertram: "I think he was protecting the bureau. I think he was protecting the country. Mark Felt would have had the background and the insight and the intelligence and the wherewithal to collect information about these individuals."
Watergate will be front page news again, there will be more books and who knows, perhaps even another film.
×
Most recent Utah stories