Estimated read time: 2-3 minutes
This archived news story is available only for your personal, non-commercial use. Information in the story may be outdated or superseded by additional information. Reading or replaying the story in its archived form does not constitute a republication of the story.
Sandra Yi ReportingMore people died on Utah roads this holiday weekend than last Memorial Day. Through the tragedies are lessons we can all learn from them. Troopers say one thing could have prevented most of the fatal crashes this weekend. Meantime, the family of one victim wants something good to come out of their son's death.
The intersection in Farmington has become a memorial for 16-year old Jacob Pratt.
Donald Pratt, Jacob's Father: "It's amazing that he could touch so many people in the short time that he was here."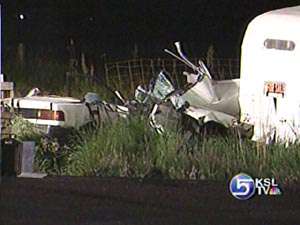 Jacob died Friday when a woman ran a stop sign and slammed into a car carrying him and two of his friends. Both are still in the hospital.
Donald Pratt: "Jacob was an awesome kid. He will be missed, greatly."
Five others died on Utah roads since Friday. Two more than this time last year. The Utah Highway Patrol is investigating those crashes; most of them happened in outlying areas.
Maj. Michael Kuehn, Utah Highway Patrol: "We feel like one fatality is a high number, so five is excessive to us."
All five victims were ejected from their cars. Only one was wearing a seat belt.
Major Michael Kuehn: "Of course, wearing a seat belt is critical to one's safety, and oftentimes, relatively minor traffic accidents or a crash can result in serious injury if a person is not wearing their seat belt."
The UHP will continue its aggressive campaign to keep the roads safe. Meantime, the Pratt family is trying to save lives in their own way. They plan to lobby the city for a stop light at the intersection where their son lost his life.
Donald Pratt: "You can just look at the site here as we're standing and see how dangerous it really is, and we hope that something can be done because of this. One life lost is way too many."
City officials say that intersection is slated for improvements, but that doesn't necessarily mean putting in a traffic light, which would cost around 150-thousand dollars.
×
Most recent Utah stories