Estimated read time: 2-3 minutes
This archived news story is available only for your personal, non-commercial use. Information in the story may be outdated or superseded by additional information. Reading or replaying the story in its archived form does not constitute a republication of the story.
Alex Cabrero Reporting The unemployment rate for Utah is hovering around five-percent. But for one part of the state it's at about 40-percent. That's almost every other person without a job. A federal contract, though, is about to help.
In Montezuma Creek even locals will tell you things are tough, but a small factory could be the big change they've been waiting for.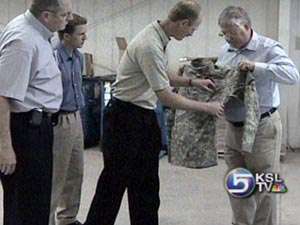 Bessie Hollie began working four weeks ago and hasn't stopped smiling since.
Bessie Hollie, Montezuma Creek: "A lot of us don't have very good homes, and this will really help us start out."
Unemployment here is near 40-percent, more for women. So any job is a good job. This is a great job.
Bernice Canchola, Montezuma Creek: "This military stuff, it's a major big thing down here."
Military stuff, as in Army uniforms. Navasew is the name of this new company on the Navajo Indian Reservation. They now have a five-year federal contract to sew uniforms. That's lots of new jobs and 24 million dollars.
Bernice Canchola: "They'll know where Montezuma Creek is on a map. Ha ha."
The state sure does. Representatives from Utah's business and economic development team took a tour to see for themselves how big this is.
Chuck Spence, Utah Business & Economic Development: "This is bringing 80 jobs to an area of the state where jobs are sorely needed."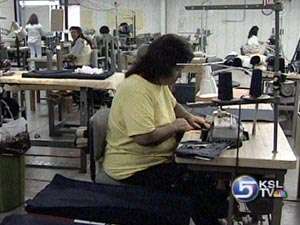 Before, women here didn't really work, towns where there are jobs aren't anywhere close by.
Bernice Canchola: "It's very, very hard because you have to travel a long ways to get there."
This factory is only making the tops of the uniforms. They would like to get the pants later on. It's not the old style Vietnam camouflage it is the new digital print, turn-of-the-millennium type uniform, a type of uniform the military would like to give all of its soldiers.
Patriotism here is alive and well, and now, finally, so is hope.
Bessie Hollie: "Gas station, convenience store, fast food restaurant or something. We don't have any of that here."
Yup, Montezuma Creek is ready for the big time.
The company's management team is from a clothing company in Tennessee. They're training Navajo Indians to take over managerial operations for themselves. And they're hiring managers, clerks, and especially seamstresses.
×
Most recent Utah stories