Estimated read time: 2-3 minutes
This archived news story is available only for your personal, non-commercial use. Information in the story may be outdated or superseded by additional information. Reading or replaying the story in its archived form does not constitute a republication of the story.
Tonya Papanikolas ReportingEvery school year teachers and students face pressure to keep test scores, especially in math, from declining. But many parents have a hard time getting their children to do math homework. Arcadia Elementary School in the Granite District came up with an innovative solution.
Popcorn, cotton candy, it doesn't seem like your typical day at school, but these kids are being rewarded for hard work.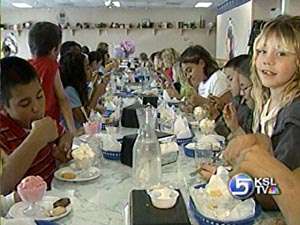 Sara Horrocks, 4th Grade Teacher, Arcadia Elementary: "They earned this to be in there. I had a few kids left in the classroom that were just begging me, please, I'll do better next time."
Kids at the "math fair" played a lot of math-related games. To be invited kids had to receive an A in math, or improve their grade. At the first math fair the school had, 70-percent of students had improved their math scores. This time around, 90-percent were able to come.
The most improved student from each class was invited to a special field trip that began with lunch and ice cream at Leatherby's and then a trip to the Nickelcade.
Allie Langston, 4th Grader: "I really wanted to come to this."
These 23 students worked hard to improve their grades.
James Guzman: "I went from a D to an A. I improved because my dad helped me."
Allie Langston, 4th Grader: "I turned in all my math assignments and homework, and got all my basic math facts."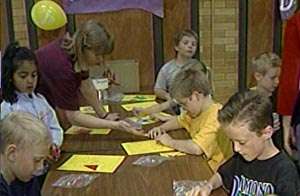 Debra Langston, Parent: "This math fair has just been so excellent for her 'cause she's just wanted to keep doing better and better and trying harder and harder."
Lynette Simmons, Event Coordinator: "They like rewards. I've had teachers tell me that kids aren't motivated by grades anymore."
But the school found that offering an incentive to the students definitely "added" up to better understanding and higher grades. Three parents organized this event. They say next year they'll continue the math fairs and give rewards to the most improved student in each class.
×
Most recent Utah stories