Estimated read time: 2-3 minutes
This archived news story is available only for your personal, non-commercial use. Information in the story may be outdated or superseded by additional information. Reading or replaying the story in its archived form does not constitute a republication of the story.
Carole Mikita Reporting Athletes screaming at each other, pushing, shoving, fists flying -- this is not a professional sport, instead it's church basketball. It's the subject of a new film being made in Salt Lake. Carole Mikita takes us behind-the-scenes for a look at the action.
They face off, the proverbial winners in blue from Crystal Hills and the ragtag band from Mud Lake, for the championship of 'Church Ball'. This production team brought you "Singles Ward," "The R.M.," and "The Home Teachers." This one, they say, is a bit more.
Kurt Hale, Writer & Director, "Church Ball": "We've got five cameras today quickly trying to get all the angles that we need. This is a new one, this is a big one. We're a little nervous, we'll see."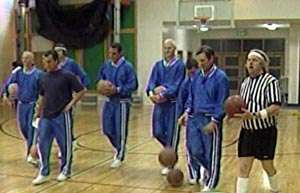 With this film everything is bigger-- the budget, the crew, most of them from L.A., and the key players of the cast, who have plenty of Hollywood experience.
Clint Howard, next seen in 'Cinderella Man' with Russell Crowe, plays Gene, getting a little long-in-the-tooth for the rough stuff.
Clint Howard, Gene 'Church Ball': "I hope they don't find my hamstring sprawled out here on the floor somewhere because, oh, boy, it's been a while."
Fred Willard, now in 'Bewitched', plays a crusty ex-coach determined to win.
Fred Willard, 'Coach', "Church Ball": "The Mormon lifestyle, which seems so clean and pure and love your brother and all, but let's go out and break a few arms to win a game. So it's kinda fascinating to me."
Andrew Wilson, just finished a film with his brother, Luke, and finds this refreshing.
Andrew Wilson, Dennis 'Church Ball' " I like working in this environment. It's much more relaxed and fun than working where everybody's just kind of phoning it in a little bit, including me (he laughs)."
'Church Ball' pokes fun at people who take themselves too seriously, a lesson, say cast and crew, for all of us. Church Ball will premiere in the middle of basketball season next January.
×
Most recent Utah stories