Estimated read time: Less than a minute
This archived news story is available only for your personal, non-commercial use. Information in the story may be outdated or superseded by additional information. Reading or replaying the story in its archived form does not constitute a republication of the story.
(KSL News) -- A 16-year-old boy is fighting to stay alive after he was stabbed on a Clearfield basketball court by a younger boy.
Greg Krusi, Asst. Chief, Clearfield Police Dept.: "It's a scary situation anytime anyone is involved in violence...especially kids of this age."
The victim is in critical condition.
The stabbing took place at a park when the fight broke out on the outdoor basketball court. The park was filled with people of all ages at the time,
Police say the attack was not related to gang activity.
Greg Krusi, Asst. Chief, Clearfield Police Dept.: "There's been an ongoing dispute with one of the juveniles and the 16 year old. Some sort of altercation took place and the 16 year old was stabbed in the chest."
Police quickly apprehended two suspects in the case, both 14 years old.
Depending on any previous records, and whether the victim survives, the youths could be charged as adults.
Police have not recovered the knife used in the attack.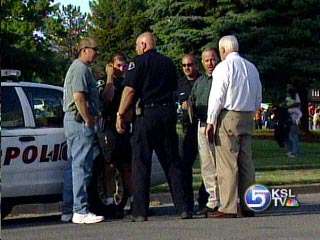 The victim wasn't responding to paramedics when they were working on him, and police say his condition is strictly touch and go.
×
Most recent Utah stories