Estimated read time: 2-3 minutes
This archived news story is available only for your personal, non-commercial use. Information in the story may be outdated or superseded by additional information. Reading or replaying the story in its archived form does not constitute a republication of the story.
Sandra Yi ReportingVictim's Sister: "I thought he was going to totally kill her because she was just scared. She was scared to death."
Police have arrested a man accused of beating his teenage daughter. They say he became enraged over her talking on the phone with a boy. The girl suffered trauma to her head, neck and arms. She was taken to the hospital and released. The girl's sister says her dad records their phone conversations, and didn't like what he heard.
Victim's Sister: "He comes home at 1:30 in the morning, and we were all asleep and went through that memo and heard the conversation."
She says what he heard set him off. The recorded call was between his 17-year old daughter and a boy.
Victim's Sister: "We're not allowed to date."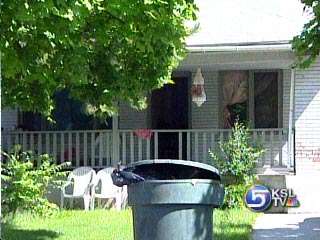 She says her dad, Emad Aljenabi, woke her sister then beat her on their living room couch. She and her mother were forced to watch.
Det. Kevin Joiner, Salt Lake City Police Dept.: "He used different items from around the home to strike her – parts of a hose, the heavy wooden handle of a knife."
Victim's Sister: "He had the knife and the hose and he was whipping her and he had the little knife and he used the back of it to hit her on the face, and he pinched her on the sides. And she was just yelling and freaking out, and he pulled her hair and was just going crazy. And he would make her wash up and come back and do the same thing over and over again."
Police were called to their home this morning. They found the victim in bed. They say she had trauma to her head, arms and legs.
Det. Kevin Joiner: "She was beaten pretty badly."
Police arrested her father, but his family still fears for their lives.
Victim's Sister: "He told yesterday my mom on the phone that no matter how long he goes to prison, he's going to come out and kill my sister."
She says her father has hurt her before, too. She hopes justice will keep him away for good.
Victim's Sister: "I hope he's in there for life. I don't ever want to see him again."
Police are investigating possible past cases of abuse involving the man. The victim is out of the hospital and is staying in a girl's group home. She is expected to be reunited with her mother, tomorrow. The family plans to get a restraining order against Aljenabi.
×
Most recent Utah stories