Estimated read time: 2-3 minutes
This archived news story is available only for your personal, non-commercial use. Information in the story may be outdated or superseded by additional information. Reading or replaying the story in its archived form does not constitute a republication of the story.
Richard Piatt ReportingOne of the fastest, rarest, most expensive cars that the Ford Motor Company sells is available in Utah, but you better hurry. Only a few Utah dealerships have a Ford GT, and the price starts at 156-thousand dollars.
There's no doubt, this is nothing less than a street-worthy race car: Zero to 60 in 3.6 seconds, just in first gear. It's enough to attract a crowd just standing still.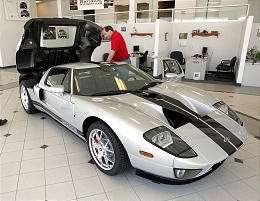 It's a 550 horsepower, 5.4 liter, 32 valve Ford GT, but aside from all that, just the sight of it is enough to bring even seasoned car enthusiasts out of the woodwork.
Glen Jewkes, Car Enthusiast: "What do I think of this car? I think this car is incredible.
The Ford GT is styled like the original from the 1960's, back when Henry Ford Junior decided if he couldn't buy Ferrari, he'd compete with it.
Glen Jewkes: "The feel of it is, when you look at the car they've retro-ed it back, all the gauges are older style."
There will only be 3500 Ford GT's made, just a handful of those will be available in Utah. The first one sold is this Grey baby with a black stripe, sold to Glen Nilson of Highland. Like a kid in a candy store, Nilson told me it's like a 'rocket ship' over the phone with a speedometer that goes up to 220, the worst thing is watching your rear view mirror.
It's a refined race car---zero to 60 in 3.6 seconds--auto magazines are calling it a cross between a Porsche and a Ferrari. It's definitely not you're Grandpa's Ford.
Jarod Hamilton, Henry Day Ford: "It brings out the little kid in everyone. When people see it they want to touch it, we put up a sign so people aren't crawling in and out of it too much."
Now for the price: the sticker on the one sold in Utah is 156-thousand dollars, including a 21-hundred dollar gas guzzler tax. But chances are they will go for 100-thousand dollars above sticker---people are already in a bidding war over these cars.
×
Most recent Utah stories