Estimated read time: 2-3 minutes
This archived news story is available only for your personal, non-commercial use. Information in the story may be outdated or superseded by additional information. Reading or replaying the story in its archived form does not constitute a republication of the story.
John Hollenhorst ReportingFourteen Black Bears came home to Utah today and got back their freedom. They've been in captivity in Idaho for a year, getting over the shock of losing their mothers.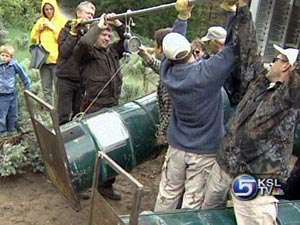 It was a truck that's really 'loaded for bear,' fourteen bears in a convoy heading into the Book Cliffs. In a suitable patch of bear habitat, wildlife workers unloaded barrels of bears that have been waiting a year for their release.
One by one, they bolted for freedom. The sight was a delight for observers.
Madison Black: "I think the bears are cute and they're really peaceful, because I learned it on TV."
You'd think she'd learn from a better source. Her grandfather is bear expert Hal Black of BYU.
Prof. Hal Black, BYU Biologist: "We've never had this many bears in one spot at one time, ever in this state."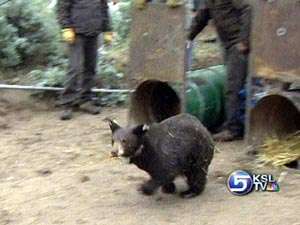 For the last year the bears have been out-of-state at an Idaho rehab center. Raised without mothers, they've been fattened up and prepared for life on their own. Mama bears are notoriously protective of their cubs, but last year's drought pushed maternal instincts to the breaking point.
Bill Bates, Utah Division of Wildlife Resources: "The late spring and summer turned out really dry and there just wasn't enough food for proper lactation, and they abandoned them. So we had 14 cubs that we had to take to Boise because of that."
Professor Black doubts that theory. He thinks many of the mothers were killed as nuisance bears by federal wildlife agents. The Division of Wildlife acknowledges eight of the cubs were found in areas where nuisance sows had been shot. But there's no actual evidence of what happened to any of the mothers.
Life will be harder in the wild. One expert says the bears have grown lazy. But the drought seems to be over so they should find the food they need to survive.
×
Most recent Utah stories