Estimated read time: 2-3 minutes
This archived news story is available only for your personal, non-commercial use. Information in the story may be outdated or superseded by additional information. Reading or replaying the story in its archived form does not constitute a republication of the story.
Sammy Linebaugh reportingClay Egan/Professional Rock Crawler: "I want to be an example for all of those other people out there that have disabilities or have spinal cord injuries and think life's over. It's not."
His attitude and his aptitude make him a fan favorite among the four-wheeling crowd. This weekend brings the national Rock Crawling Challenge to Rocky Mountain Raceway.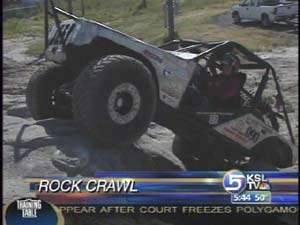 When at first you fail, try, try again. Rock crawlers, like Clay Egan, live by that motto.
Clay Egan/Professional Rock Crawler: "Everything sucks up in your throat and you go after it."
Egan has risen to the top of the rock crawling world in just two seasons, placing seventh in the nation last year.
Mark Patey/United Rock Crawling and Off-Road Challenge: "No special anything for this guy. He competes with the very best, and he makes a lot of them look bad when he's doing it with just his hands."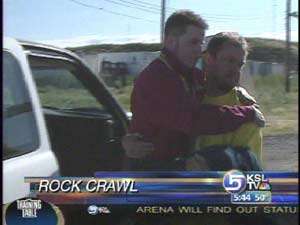 Yes, his hands. Egan was paralyzed from the chest down after breaking his neck in a motorcycle accident 11 years ago. So his crawler is specially rigged with hand controls and straps to keep his legs secure.
Clay Egan/Professional Rock Crawler: "One rod goes down to the back pedal, one rod goes down to the gas pedal. Down is gas, in is the brake. We built this shifter on the left side so I can always have one hand on the gas and be shifting."
Egan is a former BMX racer, and has always had a passion for extreme sport. So when he happened to meet U-ROC President Mark Patey...
Mark Patey: "I asked him if he ever thought he would want to get back, and did he miss the extreme sports, the competition and the adrenaline. He said, 'Yeah.'"
Clay Egan/Professional Rock Crawler: "I was so stoked. I didn't sleep for a week."
The rest is history.
Mark Patey: "I mean who would have thought seventh place in the nation last year? He's competing in the sport. It's been fantastic."
Clay is actually getting a brand new rig for this weekend's competition. He says in terms of technology and performance, it's like going from a Volkswagen to a Ferrari.
Clay Egan/Professional Rock Crawler: "I can't wait. It's going to be a good year."
His secret? Stick to his strategy: Come what may, he's gonna roll with it.
Tonight and tomorrow night from 5 p.m. to midnight, you can catch all the rock climbing action at the Rocky Mountain Raceway.
×
Most recent Utah stories