Estimated read time: 2-3 minutes
This archived news story is available only for your personal, non-commercial use. Information in the story may be outdated or superseded by additional information. Reading or replaying the story in its archived form does not constitute a republication of the story.
Deanie Wimmer reporting We've reported lately on creek safety, with our high runoff. But a close call this week for a Bountiful family brings water warnings closer to home.
Fortunately, a father knew what to do to save his baby's life.
The night before her birthday party, Maryam Brown's parents didn't know if she would make it to her first birthday.
Jennifer Brown, Mother: "She wasn't breathing and I thought my baby was dead."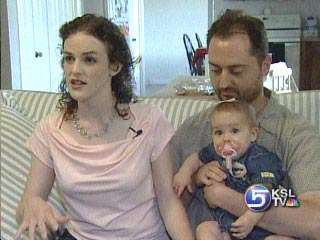 She left her two daughters alone in the bathtub long enough only to take some socks to the clothes hamper.
Jennifer Brown, Mother: "And we got to the bathtub and she was floating face down and there was vomit at the top and I pulled her out and she was limp and she was pale."
While she dialed 911, he recalled the CPR training he'd learned years ago, as a boy scout.
Ben Brown, Father: "It was slow, but we noticed a bit of life, we didn't know how long that would last. The paramedics couldn't get there fast enough."
She responded after a few breaths. It's a skill he's never used before and hopes to never use again. But paramedics say the family's fortunate he knew CPR in this case.
Jennifer Brown, Mother: "The paramedics and the doctors all said that his calm, quick thinking saved her life."
A helicopter rushed her to the hospital. By the next day, doctors released her in time to get home to cake, presents and cards from relieved neighbors.
The Browns hope other families can learn from their harrowing experience.
Jennifer Brown, Mother: "I certainly never thought this would happen. I certainly am not going to leave her alone for even a half second."
Bathtub drownings are one of the leading causes of death in babies, to Stay Safe:
Never leave your child alone in the tub, even for a few seconds.
Dont leave them and assume they'll be fine with a sibling.
And learn CPR.
×
Most recent Utah stories