Estimated read time: 3-4 minutes
This archived news story is available only for your personal, non-commercial use. Information in the story may be outdated or superseded by additional information. Reading or replaying the story in its archived form does not constitute a republication of the story.
(KSL News/AP) -- Confessed killer Mark Hacking was sentenced to six years to life in prison for the murder of his wife. Hacking confessed to shooting Lori Hacking while she slept. In April he plead guilty to the crime.
Judge Denise Lindberg listened to nearly two hours of emotional testimony on Monday before handing down the only sentence she could under Utah law. The judge followed the sentencing guidelines recommended for first-degree murder. Hacking won't be eligible for parole for at least six years.
Lindberg said only the parole board could determine how long Hacking will ultimately stay in prison, but that she will recommend that he be held "a very long time."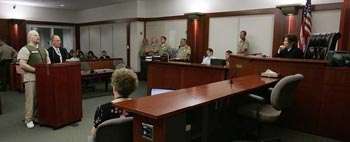 Mark Hacking spent most of his sentencing hearing with his eyes down, sometimes closed. But numerous times he broke down in tears, wiping his face with a tissue.
Mark Hacking gave emotional testimony, admitted to killing Lori and his unborn baby. He said he realizes his family probably wants him out of prison at some point, but he feels he deserves to spend the rest of his life in prison. Hacking said there was no excuse he could offer for his behavior, and that he'd give a thousand lifetimes in prison if he could to amend for his actions.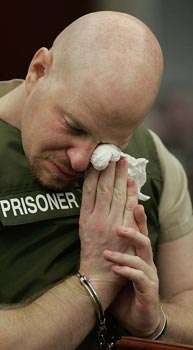 "She didn't do nothing but love me unconditionally, even when I didn't deserve it. She was the greatest thing that ever happened to me, but I killed her, and took the life of my unborn child and put them in the garbage and I can't explain why I did it," Hacking said in a halted voice when addressing the judge and family members.
"I put them in the garbage, and they rotted out at the landfill. I'm tormented every waking minute by what I did," he said.
Hacking's attorney says Mark never planned to kill Lori. Gil Athay says it was a sudden solution to the pain he'd caused with his lies. "This was a killing, in Mark's words, of love," Athay said. "The only explanation I can give you is, he loved her so much he wanted to take her out of her pain."
In court, Hacking also said, "I was not myself that day. That's not an excuse. I won't make any excuses."
Both the Hacking and Soares families were invited to speak. None of the Hacking family members gave indication as to how long they felt Mark should serve, but they did say they believed he should be allowed to get out at some point. They said they hoped Mark would take the chance to do good while in prison.
Four members of Lori's family were allowed to speak to the judge. They spoke about the manner in which Hacking killed Lori and disposed of her body. Thelma Soares said, "It would have been better if it had happened with a stranger, but it was someone that Lori loved and trusted."
Hacking apologized for the pain he caused, though it drew mixed reactions from the different families.
Mark's father, Douglas Hacking, said, "We are proud of him for taking responsibility for his actions."
But Lori's father, Eraldo Soares, said of Mark, "He's just a freaking liar. You can see it in his eyes. So I do not feel sorry for him. He has to pay for what he did to my daughter."
The judge spoke at the end of the hearing as well. She said that Mark would also have to pay restitution for all the cost he incurred as people searched for Lori those first few days. The amount he has been ordered to pay is $120,672.
(The Associated Press contributed to this report)
×
Most recent Utah stories